Flag of Thailand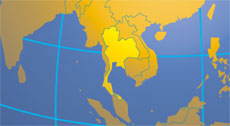 Official Name:
Muang T'hai; Prathet T'hai
Int'l long form: Kingdom of Thailand
Int'l short form: Thailand
Formerly: Siam

ISO Country Code: th

Actual Time:

Wed-Oct-26 07:24


Local Time = UTC +7
Thailand does not operate Daylight-Saving Time.

Country Calling Code: +66

Capital City: Bangkok
(in Thai: Krung Thep; pop. 6 million est.)

Other Cities:
Nakhon Ratchasima (2.5 million), Chiangmai (1.6 million), Songkla (1.2 million).

Government:
Type: Constitutional monarchy.
Constitution: New constitution promulgated 11 October 1997.
Independence: Never colonized; traditional founding date 1238.

Geography:
Location: Southeastern Asia mainland, bordering the Andaman Sea (West) and the Gulf of Thailand (East), southeast of Burma (Myanmar)
Area: 513,115 km² (198,114 sq. mi.)
Terrain: Densely populated central plain; northeastern plateau; mountain range in the west; southern isthmus joins the land mass with Malaysia.

Climate:
Thailand is a warm and rather humid tropical country with monsoonal climate. Seasons--Dry: March to May, Rainy: June to October, Cool: November to February.

People:
Nationality: Noun and adjective--Thai(s)
Population: 65.5 million (2010 census)
Ethnic groups: Thai 89%, other 11%.
Religions: Theravada Buddhist 95%, Muslim 4%, Christian, Hindu, other
Languages: Thai (official language); English is the second language of the elite; regional dialects.
Education: Literacy: 96% male, 92% female.

Natural resources:
Tin, rubber, natural gas, tungsten, tantalum, timber, lead, gypsum, lignite, fluorite; fish, arable land.

Agriculture products:
Rice, cassava (tapioca), rubber, corn, sugarcane, coconuts, soybeans.

Industries:
Tourism, textiles and garments, agricultural processing, beverages, tobacco, cement, light manufacturing such as jewelry, electric appliances and components, computers and parts, integrated circuits, furniture, plastics, world's second-largest tungsten producer, and third-largest tin producer.

Exports - commodities: electronics, computer parts, automobiles and parts, electrical appliances, machinery and equipment, textiles and footwear, fishery products, rice, rubber

Exports - partners: China 11.7%, Japan 10.2%, USA 9.9%, Hong Kong 5.7%, Malaysia 5.4%, Indonesia 4.9%, Singapore 4.7%, Australia 4.3% (2012)

Imports - commodities: capital goods, intermediate goods and raw materials, consumer goods, fuels

Imports - partners: Japan 20%, China 14.9%, UAE 6.3%, Malaysia 5.3%, USA 5.3% (2012)

Currency:
Baht (THB)

Thailand in numbers
Thailand statistical key figures.

Background:
Siam, "the land of the White Elephant" or the country of Muang Thai (Land of the Free).

The Thais have their own culture (including literature, drama, architecture, music, painting, sculpture, folk dances, and many handicrafts), their own language, their own cuisine, their own martial arts, and their own beliefs, with influences from China and India.
After the short-lived kingdom of Sukhothai founded in 1238, a unified Thai kingdom (Ayutthaya) was established in the mid-14th century; it was known as Siam until 1939. Thailand is the only southeast Asian country never have been taken over by a European power.
A bloodless revolution in 1932 led to a constitutional monarchy. In alliance with Japan during World War II, Thailand became a US ally following the conflict.


border countries: Cambodia, Lao PDR, Malaysia, Myanmar (Burma)