Taegeukgi the Flag of South Korea



Korea's name in Korean (Hangeul)
and Chinese (Hanja) characters.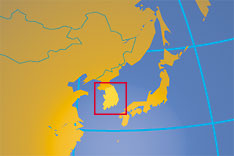 Official Name:
대한민국 - Taehan-min'guk
int'l long form: Republic of Korea
int'l short form: South Korea
abbreviation: ROK
note: the South Koreans generally use the term "Han'guk" to refer to their country.

ISO Country Code: kr

Actual Time:

Sun-Oct-23 15:06


Local Time = UTC +9h

Country Calling Code: +82

Capital City: Seoul
The Municipality of Seoul (pop. 11 million).

Other Cities:
Daejeon (Taejon, pop. 1.3 million),
Incheon (Inchon, pop. 2.4 million)
Gwangju (Kwangju, pop. 1.4 million)
Busan (Pusan, pop. 3.9 million)
Daegu (Taegu, pop. 2.5 million)

Government:
Type: Republic with powers shared between the president and the legislature.
Liberation: 15 August 1945 from Japanese rule.

Geography:
Location: Korea is a peninsula country in Northeast Asia bordering China and Russia to the north, and Japan to the southeast. The Korean peninsula is surrounded by Yellow Sea, East China Sea, and East Sea (Sea of Japan).
Area: 99,678 km² (38 375 sq. mi.)
(entire Korean Peninsula including North Korea: 222 154 sq km) (85 774 sq. mi.)
Terrain: Partially forested mountain ranges separated by deep, narrow valleys; cultivated plains along the coasts, particularly in the west and south.
Highest mountains in S. Korea - Hallasan on Jeju Island, 1950 m.

Climate: Temperate, four distinct seasons, and heavier rainfall in the summer.

People:
Nationality: Korean(s).
Population: 48.5 million
Population growth rate: 0.6%.
Ethnic groups: Korean; small Chinese minority.
Religions: Buddhism 46%, Protestantism 39%, Catholicism 13%, Confucianism 1%, Cheondogyo (the Religion of Heavenly Way) and others 1%
Language: Korean, spoken by 70 million people and 5 million overseas Koreans.
Writing system: Hangeul, the Korean alphabet, was invented by King Sejong the Great in 1443, consisting of 10 vowels and 14 consonants.
Literacy rate: 97.75% (2000 estimate), male: 99.1%, female: 96.4%

Natural resources: Limited coal, tungsten, iron ore, limestone, kaolinite, and graphite.

Agriculture products: Rice, root crops, barley, vegetables, fruit; cattle, pigs, chickens, milk, eggs; fish.

Industries: Electronics, telecommunications, automobile production, chemicals, shipbuilding, steel.

Currency: Won (KRW)

(Source: Korean National Statistical Office and others).


South Korea in numbers
South Korea key statistical data.


Background:
The Korean Peninsula extends southward from the northeast part of the Asian continent. The country has a long history and proud tradition. Buddhism and Confucianism have influenced the nation's society and culture.
Koreans, like many other Asian peoples, are descendants of the Mongolian Tungus stock. They differ from the neighboring Japanese and Chinese, however, in that Koreans are a homogeneous ethnic group with their own language, culture, and customs.
Over the last several decades, Korea has transformed herself from an agrarian society to an industrial leader on the world economic scene. Progress is being made in education, science and technology and social welfare.
In 2002 South Korea has co-hosted, the FIFA World CupTM tournament.

After World War II, a republic was set up in the southern half of the Korean Peninsula (in August 15, 1945) while a communist-style government was installed in the north.
The Korean War (1950-53) had US and other UN forces intervene to defend South Korea from North Korean attacks supported by the Chinese. An armistice was signed in 1953 splitting the peninsula along a demilitarized zone at about the 38th parallel. Thereafter, South Korea achieved rapid economic growth, with per capita income rising to 13 times the level of North Korea.
In 1997, the nation suffered a severe financial crisis from which it continues to make a solid recovery. South Korea has also maintained its commitment to democratize its political processes.

In June 2000, a historic first south-north summit took place between the south's then President KIM Dae-jung and the north's leader KIM Chong-il. In December 2000, President KIM Dae-jung won the Noble Peace Prize for his lifelong commitment to democracy and human rights in Asia. He is the first Korean to win a Nobel Prize.



In-depth country profile of South Korea
More information on South Korea's political system, foreign policy, economy, science and technology, and more.

border countries: Democratic People's Republic of Korea (North Korea)
related countries: China, Japan, United States


Note: External links will open in a new browser window.

Chong Wa Dae (Blue House)
Official website of the President's office.

The National Assembly of the Republic of Korea
The site provides a general introduction of the National Assembly and basic materials on Korea's legislative activities.




Korea.net: Korean Government Homepage
Official English-language web site of the Korean Government operated by the Korean Overseas Information Service (KOIS).

eGovernment
Korean e-Government administrative service for citizens (G4C).


Ministry of Foreign Affairs and Trade
In charge of diplomacy, external economic policy, overseas Korean nationals, international situation analysis and overseas promotional affairs.

Diplomatic Missions
Permanent Mission of The Republic of Korea to the UN
South Korea's representation to the United Nations.
Embassy of the Republic of Korea
Washington, D.C.
Korean Overseas Missions
Directory of Korean Missions Abroad.
Diplomatic Missions in Korea
List of foreign Consulates, Embassies and Organizations in Korea.

Statistics
Korea National Statistical Office - KNSO

Maps


Map of South Korea
Political Map of South Korea.


Administrative Map of South Korea
Map showing South Korea and the surrounding countries with international borders, provincial boundaries,
provincial capitals, major cities, main roads, railroads and major airports.

Map of the Korean Peninsula
Government of The Republic of Korea. Ministry of Foreign Affairs and Trade 2001.


Google Earth Korean Peninsula
Searchable map and satellite view of the Korean Peninsula.


Google Earth Seoul
Searchable map and satellite view of South Korea's capital city.


Google Earth Busan
Searchable map and satellite view of South Korea's second largest city.

Map of East Asia
Political Map of East Asia.


Map of Asia
Political Map of Asia.