___ National Economic Accounts for Countries and Regions around the World
Compared National Income Accounting in relation to the standards of living across countries.
Comparison of the Gross National Income (GNI) of countries based on Purchasing Power Parity (PPP) per
capita in international Dollars.

List of countries and regions of the world by their GNI at purchasing power parity (PPP) per capita for one year (2005), in ascending order starting with the countries with the lowest GNI.
For example, the comparable average income of a citizen of Malawi is 596 Dollar yearly, the average income of a citizen of Argentina is 13,153 Dollar in a year, and a citizen of the United States has an average income of 41,557 Dollar yearly.

To make it more clear a resident of Thailand has an income of $3,760 that is ten times more than that of a resident in Afghanistan who has a yearly income of $310, but the Thai's income is more than ten time less than the income of a resident of Spain with a yearly average income of $32,120. This are real figures - not fictional. (Data World Bank 2007)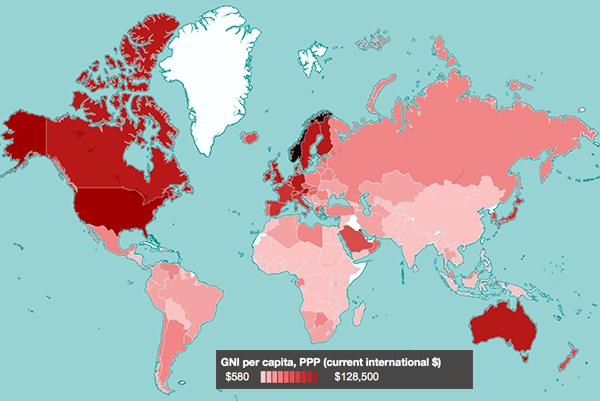 50 shades of income inequality, the map shows the high income countries in dark shades, and the poor rest of the world in dusky pink (in 2011).

Source: World Bank.



Definition:
The Gross National Income (GNI) comprises the total value of currently produced final goods and services produced by the domestic economy of a country, measured within a given period of time, usually a year. (a close value is Gross National Product (GNP).


Purchasing Power Parity
is a method of measuring the relative purchasing power of different countries currencies over the same types of goods and services, despite differential rates of inflation. PPP allows to make more accurate comparisons of standards of living across countries, because goods and services may cost more in one country than in another.


The International Dollar
is a hypothetical unit of currency that has the same purchasing power that the U.S. dollar has in the United States at a given point in time.