Flag of Lesotho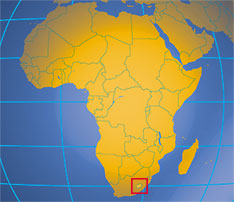 Official Name:
Kingdom of Lesotho
short form: Lesotho
former: Basutoland

ISO Country Code: ls

Actual Time:

Mon-Feb-18 00:24


Local Time = UTC +2h

Country Calling Code: +266

Capital City: Maseru (1997 pop. est. 386 000)

Other Cities:
Teyateyaneng (pop. est. 240 754), Leribe (300 160), Mafeteng (211 970), Mohale's Hoek (184 034).

Government:
Type: Modified constitutional monarchy.
Independence: 4 October 1966. (from 1868 until independence Lesotho was placed under British protection.)

Geography:
Location: South Africa
Area: 30,355 sq. km. (11 718 sq. mi.).
Terrain: High veld, plateau and mountains.

Climate: Temperate; summers hot, winters cool to cold; humidity generally low and evenings cool year round. Rainy season in summer, winters dry. Southern hemisphere seasons are reversed.

People:
Nationality: Noun--Mosotho (sing.); Basotho (pl.) Adjective--Basotho.
Population: 2.2 million (2010, UN estimate)
Ethnic groups: Basotho 99.7%; Europeans 1,600; Asians 3,000.
Religions: 80% Christian, including Roman Catholic (majority), Lesotho Evangelical, Anglican, other denominations.
Languages: Official--Sesotho and English. Others--Zulu, Xhosa.
Literacy: (1998) 70%.

Natural resources: Water, agricultural and grazing land, some diamonds and other minerals. Lesotho is an exporter of excess labor.

Agriculture products: Corn, wheat, pulses, sorghum, barley; livestock.

Industries: Food, beverages, textiles, apparel assembly, handicrafts; construction; tourism.

Exports partners: USA 97.6%, Canada 1.5%, France 0.5% (2003)

Imports partners: Hong Kong 36.6%, Taiwan 36.2%, China 12%, Germany 9.9% (2003)

Currency: In 1980, Lesotho introduced its own currency: Loti (plural Maloti). It is equivalent to the South African Rand.