Flag of Mozambique

Background:
Almost five centuries as a Portuguese colony came to a close with independence in 1975. Large-scale emigration by whites, economic dependence on South Africa, a severe drought, and a prolonged civil war hindered the country's development. The ruling party formally abandoned Marxism in 1989, and a new constitution the following year provided for multiparty elections and a free market economy. A UN-negotiated peace agreement with rebel forces ended the fighting in 1992.
(Source: CIA - The World Factbook)

border countries: Madagascar, Malawi, South Africa, Swaziland, Tanzania, Zambia, Zimbabwe

related countries: Portugal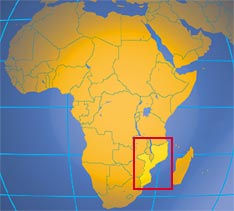 Official Name:
República de Moçambique
short form: Moçambique
int'l long form: Republic of Mozambique
int'l short form: Mozambique

ISO Country Code: mz

Time:
Local Time = UTC +2h
Actual Time:

Thu-Apr-25 15:36



Country Calling Code: +258

Capital City: Maputo (pop. 1.2 million)

Other Cities: Beira, Matola, Nampula, Quelimane, Tete, Nacala.

Government:
Type: Multi-party democracy.
Independence: 25 June 1975 (from Portugal).
Constitution: 30 November 1990.

Geography:
Location: South-eastern coast of Africa, bordering the Mozambique Channel in the Indian Ocean in west.
Area: 801,590 km² (309,495 sq. mi.)
Terrain: Varies from coastal lowlands to high plateau in northwest, mountains in west.

Climate: Varies from sub-tropical to tropical (south to north).

People:
Nationality: Mozambican(s).
Population (2005 est.): 19.4 million.
Ethnic groups: Makua, Tsonga, Makonde, Shangaan, Shona, Sena, Ndau, and other indigenous groups, and approximately 10,000 Europeans, 35,000 Euro-Africans, and 15,000 South Asians.
Religions: Christian 30%, Muslim 17%, indigenous African and other beliefs 45%.
Languages: Portuguese (official), various indigenous languages.
Literacy: 50%

Natural resources: Coal, titanium, natural gas, hydropower, tantalum, graphite.

Agriculture products: Cotton, cashew nuts, sugarcane, tea, cassava (tapioca), corn, coconuts, sisal, citrus and tropical fruits, potatoes, sunflowers; beef, poultry.

Industries: Food, beverages, chemicals (fertilizer, soap, paints), aluminum, petroleum products, textiles, cement, glass, asbestos, tobacco.

Exports partners: Belgium 25.5%, South Africa 12.2%, Spain 11.6%, Italy 11.6%, Germany 7.7% (2005)

Imports partners: South Africa 36.3%, Australia 12.8%, India 5.1% (2005)

Currency: Metical (MZM)

Source: Mozambique Investment Promotion Center and others.