Business & Economy

Bank of Japan
Central Bank Japan. The Japanese central bank is a legal person and not a government agency or a private corporation.

Nikkei
Index of the Japanese stock market.

Japan Exchange Group (JPX)
Financial services corporation that operates the exchanges of Tokyo Stock Exchange and Osaka Securities Exchange.


Japan Chamber of Commerce and Industry (JCCI)
JCCI is a network of local economic organizations made up of the representatives of some 1.26 million member businesses nationwide.

Tokyo Chamber of Commerce and Industry (TCCI)
The TCCI is a economic organization, founded in 1878, the chamber represents the commercial and industrial interests of businesses of the 23-ward area of metropolitan Tokyo.

Japan External Trade Organization (JETRO)
JETRO is a Japanese government-related organization that promotes mutually beneficial trade and investment relations between Japan and other nations.


Top Japanese Brands

Automotive
Japan's automotive industry is one of the largest industries in the world. Japan was among the three countries with the highest production of cars since the 1960s, surpassing Germany. Japan was the pioneer in robotics manufacturing of cars starting in the late 1970s.

Daihatsu
Japanese automobile manufacturer of small cars, the company was founded in 1907. The company is now a subsidiary of Toyota.
Honda
Japanese multinational manufacturer of automobiles, aircrafts, and motorcycles, with its headquarters at Minato, Tokyo.
Isuzu
A Japanese manufacturing company for commercial vehicles and diesel engines, headquartered in Tokyo.
Kawasaki
Kawasaki Heavy Industries is outside Japan best known as a manufacturer of motorcycles.
Mazda
Japanese automobile manufacturer based in Aki District, Hiroshima Prefecture.
Mitsubishi Motors
One of the three major heavy industrial manufacturers in Japan is also a manufacturer of cars, the company is based in Tokyo.
Nissan
Japanese multinational automaker headquartered in Nishi-ku, Yokohama. By now, it is the world's largest manufacturer of electric vehicles.
Subaru
The automotive division of Fuji Heavy Industries (FHI), it is the largest manufacturer of all-wheel drive passenger cars. Its headquarters are in Ebisu, Shibuya, Tokyo.
Suzuki
Japanese manufacturer of motorcycles, cars and outboard motors with its headquarters at Hamamatsu, Shizuoka Prefecture.
Toyota
Japanese multinational company and the world's largest automotive manufacturer, headquartered in Toyota, Aichi, Japan. Lexus is the luxury vehicle division of Toyota.
Yamaha
Japanese multinational manufacturer of motorcycles, power sports equipment, musical instruments, and electronics.

Beauty & Fashion
Kanebo
Beauty and Health made in Japan.
Kansai Yamamoto
Japanese Contemporary fashion.
Kenzo
French luxury house founded in 1970 by Japanese designer Kenzo Takada.
Shiseido
The Japanese answer to CHANEL & Co.
Uniqlo
Japanese casual wear designer, manufacturer and retailer.

Mikimoto
Japanese luxury pearl company.

Beer
Kirin
Kirin Brewery Company, Ltd.
Sapporo
Japanese Beer.

Cameras
Canon
Fine cameras and copiers.
Konica Minolta
More fine cameras.
Nikon
... and more fine cameras.

Consumer Electronics
Bandai
Toys, from the Rhythm Ball (1950) to Sailor Moon (1993), Tamagotchi (1996) and more.
Nintendo
Formerly a Japanese card company, now a multinational manufacturer of video games and game consoles, headquartered in Kyoto.
Panasonic
Japanese multinational electronics corporation headquartered in Kadoma, Osaka.
Pioneer
Japanese Hifi. Japanese multinational corporation with its headquarters in Bunkyō, Tokyo.
SEGA
Entertainment universe. Japanese multinational video game developer headquartered in Tokyo.
Sharp
Japanese multinational corporation, manufacturer of a wide range of electronic consumer and business products, they are headquartered in Sakai, Osaka Prefecture.
SONY
MULTI-media.


Dentsu
One of the largest advertising agencies in the world.


Heavy Industry
There are three major heavy industrial manufacturers in Japan.

Ishikawajima-Harima Heavy Industries (IHI)
IHI Corporation produces ships, aircraft engines, turbochargers for automobiles, industrial machines, space products like sounding rockets and launch vehicles, energy systems (industrial power station boilers) and other facilities.

Kawasaki Heavy Industries (KHI)
Japanese multinational corporation is a major player in the area of shipbuilding, aerospace engineering, vehicle construction (railways, construction vehicles, motorcycles), building construction and civil engineering, as well as machine and power plant construction (robots, bag conveyor systems, and gas turbines).

Mitsubishi Heavy Industries (MHI)
Japanese multinational company with 300 subsidiaries, active mainly in the heavy industry, mechanical and automotive engineering, and in the aviation and electronics industry, headquartered in Tokyo.


Transportation

Aviation
All Nippon Airways
Largest Japanese airline. The Tokyo-based company is listed in the Nikkei 225, it is a member of the global airline alliance Star Alliance.
Japan Airlines
The second largest Japanese airline is based in Shinagawa, one of the 23 districts of the Japanese Prefecture of Tokyo. The flag carrier airline of Japan has its main hubs at Tokyo Haneda Airport and at Tokyo Narita Airport. JAL is a member of the aviation alliance oneworld.
Peach
First international low-cost carrier in Japan with its hub at Kansai International Airport, Izumisano, Osaka. The airline serves destinations within Japan, and offers flights to Hong Kong and Shanghai in China, Busan and Seoul in South Korea, Kaohsiung and Taipei in Taiwan, and Bangkok in Thailand.


Airports
Narita Airport
New Tokyo International Airport, Narita-shi, Chiba.
Tokyo International Airport (Haneda Airport)
The other one of the two primary airports that serve the Greater Tokyo Area, located in Ōta, Tokyo.
Kansai International Airport (Osaka)
Osaka's international airport is located about 50 km (by road) south of the city on an artificial island in Osaka Bay.
Central Japan International Airport (Nagoya)
Chubu Centrair International Airport is located on an artificial island in Ise Bay, 48 km (by road) south of Nagoya.

The location and information about other major Japanese airports you will find here:

Fukuoka,

Fukushima,

Kobe,

Kyoto,

Nagoya,

Osaka,

Sapporo,

Sendai,

Yokohama.


Railroads
The Japanese National Railways was privatized in 1987, below listed are the seven legally independent successor companies: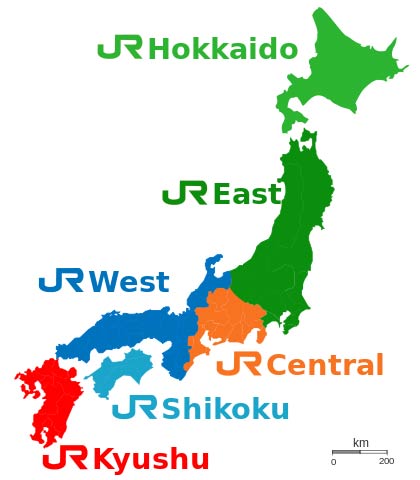 Image: Vladsinger

Hokkaido Railway Company (JR Hokkaidō)
One of the seven successors of the Japanese National Railways. JR Hokkaido operates its route network on Hokkaido, the second largest island of Japan, and the northernmost prefecture.

East Japan Railway Company (JR Higashi-Nihon)
One of the six major passenger railway companies in Japan. Its route network covers the northern half of Honshu.

West Japan Railway Company (JR Nishi-Nihon)
West Japan Railway Company operates its route network in western Honshu. It has its headquarters in Kita-ku, Osaka.

Central Japan Railway Company (JR Tōkai)
Railway operator and freight mover with a route network in the Chūbu region in the central area of Japan. Its headquarters are located in Nagoya, Aichi Prefecture.

Nihon Kamotsu Tetsudō (JR Kamotsu)
Japan Freight Railway Company or JR Freight, operates rail freight transport nationwide. It has its headquarters in Shibuya, Tokyo.

Shikoku Railway Company (JR Shikoku)
JR Shikoku operates the former state route network on the island of Shikoku, the southern/westernmost and the smallest of the four main islands of Japan.

Kyushu Railway (JR Kyūshū)
JR Kyushu operates rail services on Kyushu island and the Beetle hydrofoil ferry service across the Tsushima Strait between Fukuoka and Busan, South Korea. Its headquarters are in Hakata-ku, Fukuoka.

Odakyu Electric Railway Co., Ltd.
Odakyu Electric Railway operates limited express luxury tourist services south-west of Tokyo, to mountain resorts and beaches.