Flag of Iraq

Background:
Formerly part of the Ottoman Empire, Iraq became an independent kingdom in 1932.
A "republic" was proclaimed in 1958, but in actuality a series of military strongmen have ruled the country since then, the latest being SADDAM Husayn.

Territorial disputes with Iran led to an inconclusive and costly eight-year war (1980-1988). In August 1990 Iraq seized Kuwait, but was expelled by US-led, UN coalition forces during January-February 1991. The victors did not occupy Iraq, however, thus allowing the regime to stay in control. Following Kuwait's liberation, the UN Security Council (UNSC) required Iraq to scrap all weapons of mass destruction and long-range missiles and to allow UN verification inspections. UN trade sanctions remain in effect due to incomplete Iraqi compliance with relevant UNSC resolutions.

Without UN backing in March 2003 US-led coalition forces invaded Iraq to terminate the SADDAM Husayn regime, find weapons of mass destruction, and to teach the Middle East a lesson in democracy.

Iraq is a member state of the League of Arab States

border countries: Iran, Jordan, Kuwait, Saudi Arabia, Syria, Turkey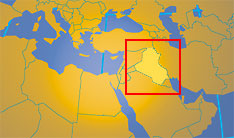 Official Name:
Al Jumhuriyah al Iraqiyah
short form: Al Iraq
international long form: Republic of Iraq
international short form: Iraq

ISO Country Code: iq
Actual Time:

Tue-June-6 06:16


Local Time = UTC+3h
Daylight Saving Time (DST) April - 1 Oct (UTC +4)

Country Calling Code: +964

Capital City: Baghdad (pop. est. 5 million)

Other Cities:
Basrah, Mosul, Kirkuk, As Sulaymaniyah, Irbil

Government:
The Iraqi Interim Government (IIG) assumed sovereign authority for governing Iraq on
28 June 2004.
Independence: 1932 (from British mandate)
Constitution: Interim constitution, 8 March 2004:
"The National Assembly shall write the draft of the permanent constitution by no later than
15 August 2005."

Geography:
Location: Middle East, bordering the Persian Gulf, between Iran and Kuwait.
Area: 438,317 km²; about the size of California. Terrain: Alluvial plains, mountains, and desert, with many holes caused by various organizations in search for weapons of mass destruction.

Climate: mostly desert; mild to cool winters with dry, hot, cloudless summers; northern mountainous regions along Iranian and Turkish borders experience cold winters with occasionally heavy snows that melt in early spring, sometimes causing extensive flooding in central and southern Iraq.

People:
Nationality: Noun and adjective--Iraqi(s)
Population: 33,330,000 (2011 est.)
Ethnic groups: Arab 75%-80%, Kurd 15%-20%, Turkman, Chaldean, Assyrian, or others less than 5%
Religions: Shia Muslim 60%, Sunni Muslim 32%-37%, Christian 3%, Jewish and Yezidi less than 1%
Languages: Arabic (official); more than 70% are Arabic speakers, Kurdish (official since 28 June 2004), Assyrian, Armenian
Literacy: 58%.

Natural resources: Petroleum, natural gas, phosphates, sulfur.
Agriculture products: Wheat, barley, rice, vegetables, dates, cotton; cattle, sheep.

Industries: Petroleum, chemicals, textiles, construction materials, food processing.


Currency: New Iraqi Dinar (NID) as of 22 January 2004.



Iraq in Figures
Iraq key statistical data.