About Tehran

The satellite view and the map show Tehran, largest city and the national capital of the

Islamic Republic of Iran.
The country's the political and industrial centeris located about 100 km south of the Caspian Sea at the foot of the Alborz mountain range (Elburz Mountains).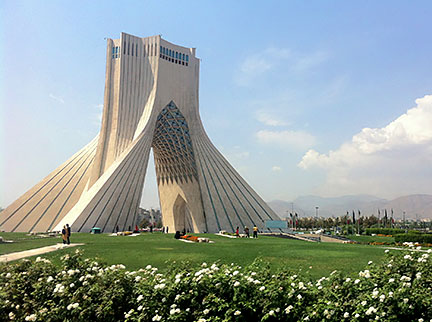 Image by: Hooperag

Tehran replaced Isfahan as the capital of Persia in 1788.

Today the city has a population of about 8 million inhabitants, 14 million people live in its metropolitan area. Spoken languages are various dialects of Persian (Farsi).

Some points of interest: Golestan Palace

(a 16th century masterpiece of the Qajar era located in the historic core of Tehran, today a UNESCO World Heritage Site); Azadi Tower (the iconic landmark represents the western entrance to the city); Milad Tower (height: 435.0 m (1,427 ft), part of the International Trade and Convention Center complex); National Museum of Iran (two museums in one, the Museum of Ancient Iran, and the Museum of the Islamic Era); Carpet Museum of Iran (all you want to know about Persian carpets); Mausoleum of Ayatollah Khomeini (tomb of Ruhollah Khomeini and his family); Reza Abbasi Museum (collection of pre-Islamic and Islamic eras Persian art, with objects dating back to the second millennium BC).

Just zoom in to see the white marble of the Azadi Monument (Azadi Tower) in Tehran's Azadi Square. The tower is the most prominent landmark in the city.

The map shows a city map of Tehran with expressways, main roads and streets, and the location of Mehrabad Airport (IATA code: THR), zoom out to find Imam Khomeini International Airport (IATA code: IKA) located about 30 km (19 mi) south of the city.

To find a location use the form below.



To find a location type: street or place, city, optional: state, country.


Local Time Tehran:

Tuesday-June-6 00:45

UTC/GMT +4:30 hours