About Lhasa
Satellite view is showing Lhasa, the traditional capital of

Tibet and today the administrative capital of the Tibet Autonomous Region (TAR).

The city is situated at 3,650m (11,800ft) above sea level in the northern Himalayas at the Yarlung Tsangpo river, which is the name of the part of the Brahmaputra River that flows through Tibet.

The city was known as the Forbidden City until the 20th century because it was closed to foreign visitors.
Lhasa is home to important Tibetan Buddhist sites such as the Jokhang, Potala and Norbulingka palaces.

Lhasa district has a population of about 220,000, 521,500 people live in Lhasa Prefecture-level city. Spoken languages are Tibetan and Mandarin.

Zoom strait in to see Potala Palace, the former chief residence of the Dalai Lama (until 1959).

The map shows the city of Lhasa, with roads and main streets, zoom out to find the location of Lhasa Gonggar Airport (IATA code: LXA), about 65 km (40 mi) by road south-southwest of Lhasa.

To find a location use the form below.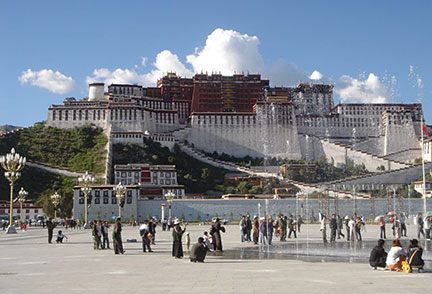 Potala Palace in Lhasa, the former residence of the Dalai Lama is the city's main attraction. -

Image: Philipp Roelli





Bookmark/share this page



To find a location type: street or place, city, optional: state, country.


Local Time Tibet:

Monday-January-24 16:33

Time zone: China Standard Time (CST) UTC/GMT +8 hours