About Samarkand
Satellite view is showing Samarkand (also Samarqand), it the second-largest city in

Uzbekistan, situated in the valley of the river Zarafshan in the center of the country.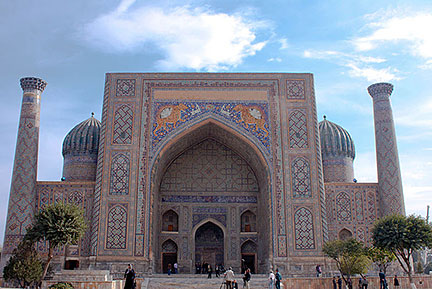 Image: Tchumbley

The city's old name is Afrasiab, famous as a center of trading because of its central position on the Asian Silk Road between the Far East (

China) and the Mediterranean region.
Today Samarkand has a population of about 500,000 people. Official language is Uzbek, but the majority of the city's inhabitants are Persian-speaking Tajiks.

Just zoom in (+) to see the Registan, open public space, with its three madrasahs (institutions of learning). The Registan is located in the center of this ancient city. It is a major tourist attraction in Samarkand.

The map shows a city map of Samarkand with expressways, and main roads, zoom out to find the location of Samarkand Airport (IATA code: SKD) north of the city center on the periphery of Samarkand.

To find a location use the form below.

To find a location type: street or place, city, optional: state, country.


Local Time Samarkand:

Sunday-December-10 05:11

Time zone: Uzbekistan Time (UZT) :: UTC/GMT +5 hours