About Greece

Satellite view is showing Greece, a Mediterranean country in southeastern Europe composed of 2 main peninsulas and some thousands of islands in the Aegean (west) and Ionian seas (east of mainland Greece).

With an area of 132 000 km² Greece is slightly larger than half the size of the United Kingdom, or slightly smaller than the U.S. state of Alabama.

Greece has a population is about 10.8 million people. Spoken languages are Greek (official) and Turkish (predominantly spoken by a minority of Turks in Western Thrace).

The Greek Islands:
About 6,000 islands and islets in the Mediterranean Sea belong to Greece, 227 of them are inhabited.
The markers on the map point to the largest Greek islands, a click on a marker reveals a short description of each island.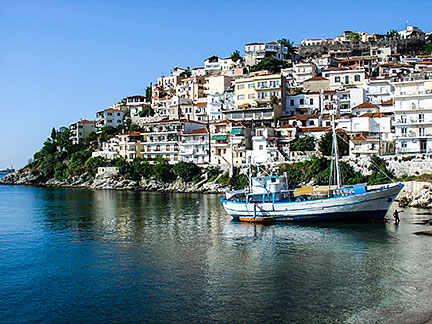 Image: P. Vasiliadis

Some points of interest are: the Acropolis of Athens with the Parthenon, Ancient Agora (venue), Temple of Hephaestus, and nearby Acropolis Museum, Meteora

(suspended in the air Greek Orthodox monasteries), Samariá Gorge (gorge on the island of Crete), Knossos (archaeological site on Crete), Spinalonga (island, and until 1957 a leper colony), Heraklion Archaeological Museum (Minoan art), Akrotiri (Minoan Bronze Age settlement on Santorini Island), Santorini caldera, Achilleion (palace on Corfu, built by Empress of Austria (Sisi)), Museum of Byzantine Culture (Thessaloniki), Delphi (sanctuary of the oracle).

Border countries are: Albania, Bulgaria, Turkey, and the Republic of Macedonia, Greece shares maritime borders with Cyprus, Egypt, Italy, and Libya.

Largest city and the national capital is

Athens (Αθήνα), center of the cultural and political life in Greece.
Spoken language is Greek (official).

The Map shows Greece with prefecture capitals, cities, islands, expressways, main roads and streets and the location of Athens International Airport, Macedonia International Airport (IATA code: SKG) in Thessaloniki, and "Eleftherios Venizelos" (IATA code: ATH), and Heraklion International Airport, "Nikos Kazantzakis" on the island of Crete (IATA code: HER).

To find a location use the form below. To view the map, click on the "Map" button.


To find a location type: street or place, city, optional: state, country.


Local Time Greece:

Saturday-September-23 07:21

Standard Time Zone (EET): UTC/GMT +2 hours
Daylight Saving Time in use from end of March until end of October: time zone offset: UTC/GMT +3 hours