About the City of Alexandria

Satellite View is showing Alexandria, the second largest city in

Egypt. It is the chief port of the country.

Alexandria is situated in the north central part of Egypt on the coast of the Mediterranean Sea.
The city has a population of more than 4 million inhabitants. Official language is Arabic.


History (short version)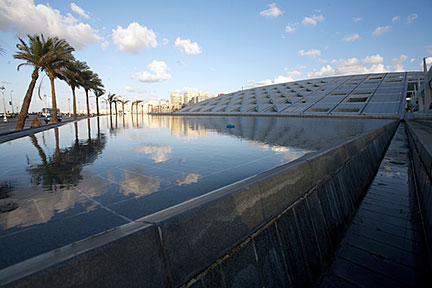 Image: © Carsten Whimster

Founded in 332 BC by Alexander the Great, it was a major center of Hellenistic culture, renowned for its library (the largest library in the ancient world); and for the Lighthouse of Alexandria (Pharos), one of the Seven Wonders of the Ancient World.
Alexander's successors built the seaport into a center of trade between Europe and the East, surpassing Carthage in size and importance.

The library at Alexandria held the greatest collection of books in the world. The great library suffered destruction through a series of fires and attacks, and in a.d. 215 a general massacre of the city's population was ordered by the Roman emperor Caracalla. Alexandria became a major Christian theological center but found itself increasingly isolated from the rest of Egypt. When the Roman Empire began to disintegrate in the third century, the city began a speedy decline.

The Map shows a city map of Alexandria with expressways, main roads and streets, and the location of Alexandria International Airport (ALY), currently Alexandria's busiest airport, zoom out to (-) find Borg al Arab Airport (IATA code: HBE) located about 40 km (25 mi) southwest of the city center. Borg El Arab Airport is today the principal airport of Alexandria, all traffic has been transferred from Alexandria International Airport which is closed for two years for major renovation.


To find a location type: street or place, city, optional: state, country.


Local Time Alexandria:

Monday-January-17 03:17

Standard time zone is Eastern European Time (EET): UTC/GMT +2 hours
Egypt does not observe Daylight Saving Time (DST) since 2011