Map is showing Slovenia a country in southeastern Europe. It is bordered by Austria, Croatia, Hungary, and Italy. The former constituent republic of Yugoslavia is almost landlocked, it has only a short (46 km) coastline at the Adriatic Sea between Italy and Croatia.

With an area of 20,273 km² Slovenia is about half the size of Switzerland or slightly smaller than the U.S. state of New Jersey.

Slovenia landscape offers a small coastal strip in south west, and an alpine mountain region with the Julian Alps, a mountain range that stretch from northeastern Italy to Slovenia, within the Julian Alps lies the country's highest mountain the Triglav at 2,864 m. In the north there are the Karawanks, a mountain range of the Southern Limestone Alps on the border between Slovenia and Austria. Almost 63% of Slovenia is forested area.

The country has a population of just over 2 million people. Largest city and capital is Ljubljana with about 278,000 residents (in 2015). Spoken languages are Slovenian (official; 91%) and Serbo-Croatian (4.5%). The major religion is Christianity (about 60%).


Map is showing Slovenia with surrounding countries, international borders, main rivers, major cities, main roads, and major airports.



You are free to use this map for educational purposes, please refer to the Nations Online Project.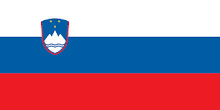 Bookmark/share this page


One World - Nations Online
all countries of the world