About Venice

Satellite view showing Venice, the world famous city in northeastern

Italy. Venice is the capital of Venetia region (Veneto), situated in the Venetian Lagoon along the Adriatic part of the Mediterranean Sea.

The city is built on 118 small islands which are separated by canals and linked by bridges and boat traffic.

Formerly a city state, the Republic of Venice was a major maritime power during the Middle Ages and Renaissance, and a staging area for the Crusades. The city grew in power and importance after the sack of Constantinople (Istanbul) by crusading forces in 1204, a campaign orchestrated by the Venetians.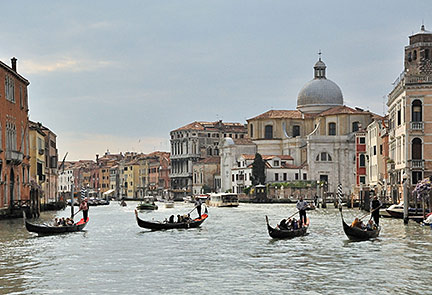 Image: Saffron Blaze

With the new independence from the Roman empire, the city became an important hub of trade and commerce, especially for fine manufactured goods, silk, porcelain and spices. Venetian merchants established trade links that reached as far as Persia and the Mongol Empire, the Caucasus and Asia Minor, using many branches of the historic Silk Roads. In 1221 a trade treaty was established between Venice and the Mongol Empire. In 1271 the Venetian Marco Polo set off on his famous expedition to the east returning in 1295 with goods and stories about eastern cultures, people and traditions.

Venice was also a major center for the arts in the 13th century up to the end of the 17th century, competing with Florence. And so today, Venice is host to the Venice Biennale, a major contemporary art exhibition, the Venice Biennale of Architecture and the Venice Film Festival.

The city being one of the world's greatest and most beautiful cities of art, and one of the most important tourist destinations in the world with more than 3 million international visitors a year.

The city has a population of about 270,000 inhabitants, about 60,000 people live in historic Venice.

Just zoom in to see St. Mark's Square with Saint Mark's Basilica.

The map shows a city map of Venice with expressways, main roads and streets, and the location of Venice Marco Polo Airport (IATA code: VCE) located on the Italian mainland north of the city.

To find a location use the form below.

To find a location type: street or place, city, optional: state, country.


Local Time Venice:

Saturday-December-2 08:06

Standard Time Zone (CET): UTC/GMT +1 hour
CEST (Daylight Saving Time) in use from end of March until end of October: time zone offset: UTC/GMT +2 hours