About Naples

Satellite view is showing Naples, a major seaport, the capital of Campania region and the province of Naples in

Italy. The city is located in south west Italy on the coast by the Gulf of Naples, in the midst of two volcanic areas, the Phlegraean Fields and Mount Vesuvius which is about nine kilometers (six miles) east of Naples, the active stratovolcano dominates the city's panorama.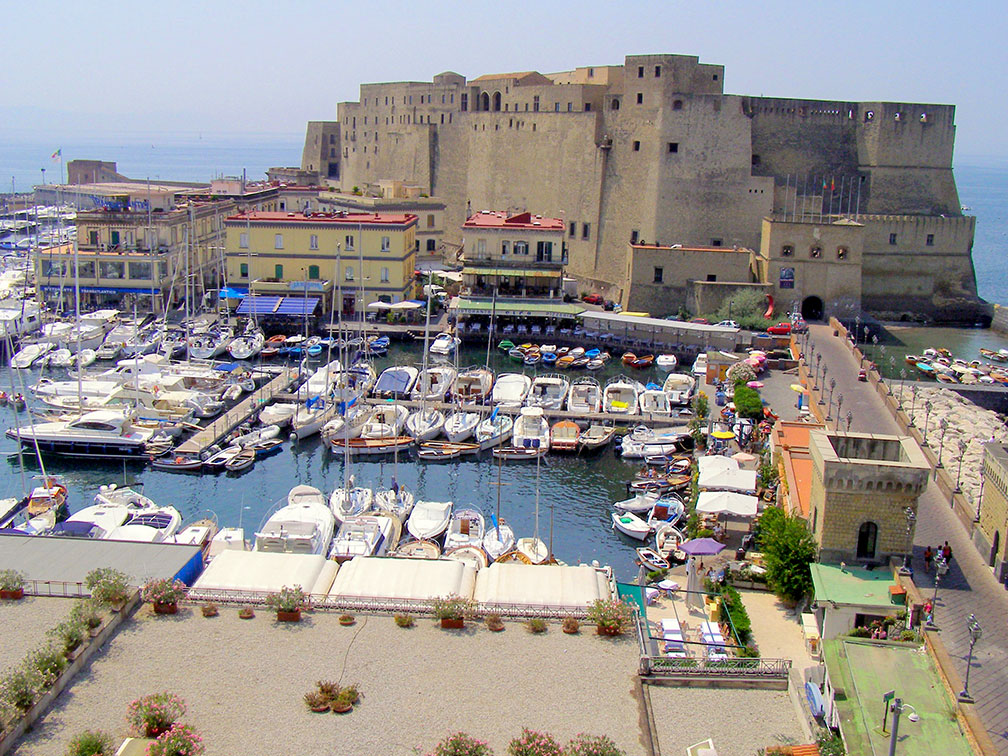 Image: Producer

Naples was founded more than 2,800 years ago by Ancient Greek colonists from Rhodes, they called the town "Νεάπολις", Neapolis (New City).

Samnites from south central Italy took the city and the region of Campania in 400 BC. In 326 BC Rome seized it from the Samnites and allowed the Greek population great autonomy.

The city has continued to play an important role throughout much of its existence. From 1816 - 1860 it was the capital of the Kingdom of Naples and Sicily.

Today Naples has a population of almost 1 million inhabitants, about 3 million people live in the greater urban metropolitan area (Italian: Area metropolitana di Napoli).

Official language is Italian, but Neapolitan (napulitano) is the language of the city and region of Naples.

Some points of interest:
The Historic Centre of Naples

is today a UNESCO World Heritage Site.
Just zoom in to see Piazza del Plebiscito with the Royal Palace of Naples and the Basilica Reale San Francesco di Paola.

Nearby attractions are: Solfatara, a shallow volcanic crater at Pozzuoli on the Phlegrean Peninsula in the center of the Campi Flegrei. The dormant volcano still emits jets of steam with sulfurous fumes. Capri, an island located in the Tyrrhenian Sea, the island has been a resort since the time of the Roman Republic (509 BC–27 BC).

The Map shows a city map of Naples with main roads and streets, Naples Capodichino Airport (IATA code: NAP) is located about 5 km (3 mi) by road (via Corso Malta) north-northeast of the city.

Zoom out to see the volcanic islands of Ischia and Procida and the island of Capri, all very popular tourist destinations in the region.

To find a location type: street or place, city, optional: state, country.


Local Time Naples:

Friday-December-8 23:26

Standard Time Zone (CET): UTC/GMT +1 hour
CEST (Daylight Saving Time) in use from end of March until end of October. Time zone offset: UTC/GMT +2 hours