About Tripoli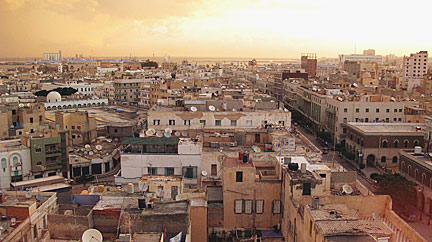 The old medina in Central Tripoli;

Image by: Patrick André Perron

Satellite view is showing Tripoli, largest city and chief seaport and the national capital of

Libya, located in northwestern Libya on the North African coast of the Mediterranean Sea, 500 km (310 mi) south of Sicily/Italy.

The capital's Arabic name is Tarabulus Al-Gharb. The city was founded by Phoenicians in the 7th century bc, its ancient name was Oea.

Tripoli has a population of about 2.2 million inhabitants. It is the main hub of Libya's economy and the country's center of banking, finance and communication and being one of the leading commercial and manufacturing cities in Libya. Official language is Arabic.

The map shows a city map of Tripoli with expressways, main roads and streets, and the location of Mitiga International Airport (IATA code: MJI), zoom out to find Tripoli International Airport (IATA code: TIP), the countries major airport located in Ben Ghashir 34 km (21 mi) south of Tripoli's city center.

To find a location use the form below. To view just the map, click on the "Map" button.

To find a location type: street or place, city, optional: state, country.


Local Time Tripoli:

Monday-September-26 02:49

UTC/GMT +2 hours