About Spain

Map is showing the Kingdom of Spain (Reino de España), one of the two countries on the Iberian Peninsula, which is at the southwestern tip of Continental Europe, bordering the Mediterranean Sea in south, the North Atlantic Ocean in west and the Bay of Biscay in north. Spain is bordered by Portugal in west, by France and Andorra in north east, it has borders with Morocco at the Spanish coastal exclaves of Ceuta and Melilla, the two permanently inhabited Spanish autonomous cities in Northern Africa, and there is Gibraltar, the tiny British Overseas Territory, on a tiny jut dangling from the peninsula is still a disputed area. Spain's irredentist claim of Gibraltar escalated Presenter when Spain threatened to take control of Gibraltar the 'very next day' after a British exit from the EU.

Spain shares maritime borders with Algeria and Italy. The territory of Spain includes two archipelagos, the Balearic Islands (Majorca, Minorca, Ibiza and Formentera) in the Mediterranean Sea, and the Canary Islands (Tenerife, Fuerteventura, Gran Canaria, Lanzarote, La Palma, La Gomera and El Hierro) in the Atlantic Ocean, west off the coast of Morocco. Mount Teide on Tenerife is Spain's highest mountain with an altitude of 3,718 m.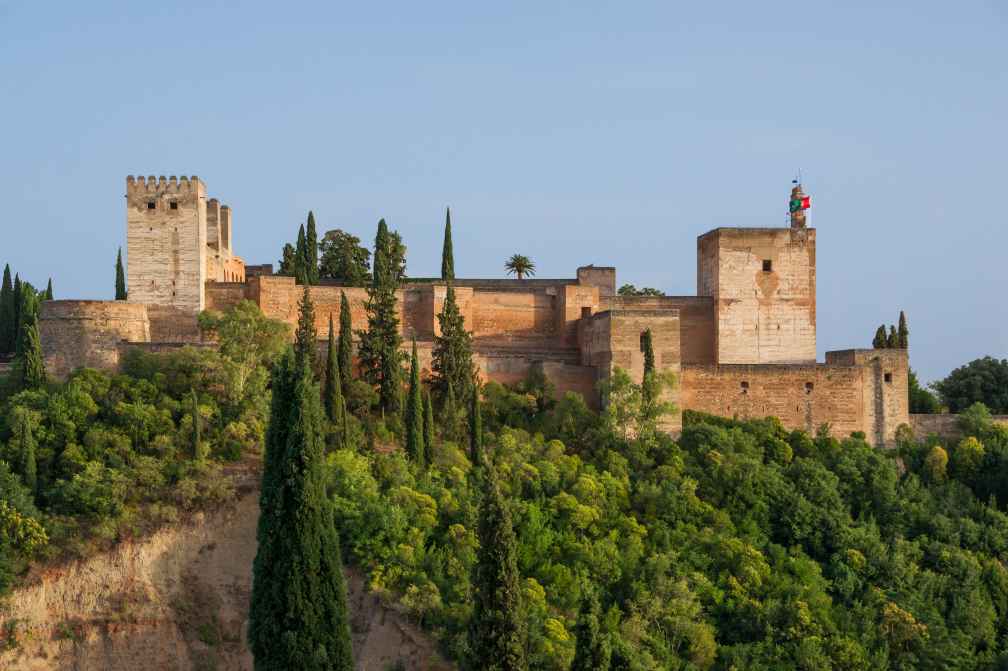 Image: Jebulon

An area of 505,992 km² makes Spain the third largest country in Europe, if we don't count Russia on the whole. Compared it is somewhat larger than twice the size of the United Kingdom, or slightly more than twice the size of the U.S. state of Oregon.

Spain's landscape offers a variety of sceneries, from soaring peaks in the mountain ranges to Mediterranean flair, from dense forests to wetlands and desert areas, from deep canyons to spectacular waterfalls, and from red brown or white colored villages to ancient castles.

Spain's climate ranges from temperate Atlantic in the north to Mediterranean in the south. The northern regions experience cool summers, mild winters, and year-round rainfall, the interior has hot, dry summers and cold winters, with snow on the higher elevations. The Mediterranean regions enjoy a subtropical climate.

Spain has a population of 46,439.800 people in 2015, official language is Spanish, recognized regional languages are Aragonese, Asturian, Basque, Catalan, Galician, and Occitan. Capital and largest city is Madrid, situated in the center of the country. Other major cities are Barcelona, the cosmopolitan capital of Catalonia, the port city of Valencia, and the inland port of Seville.

The map shows Spain with international borders, autonomous communities boundaries, the national capital

Madrid, autonomous community capitals, major cities, expressways and main roads, and when you zoom in you will even find railways!

To find a location use the form below. To view just the map, click on the "Map" button.

To find a location type: street or place, city, optional: state, country.


Local Time Spain:

Tuesday-March-28 17:42

Standard Time Zone (CET): UTC/GMT +1 hour
CEST (Daylight Saving Time) in use from end of March until end of October: time zone offset: UTC/GMT +2 hours