About Algeria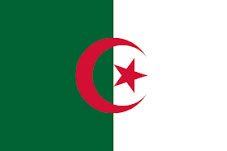 Algeria is a large country in western North Africa, with a coastline on the
Mediterranean Sea
to the north. The Maghreb state borders
Morocco
to the west,
Mauritania
and
Mali
to the southwest,
Niger
to the southeast,
Libya
to the east,
Tunisia
to the northeast, and has a short border with Western Sahara to the west. Algeria shares maritime borders with
Italy
and
Spain
.
The
People's Democratic Republic of Algeria
covers an
area
of 2,381,741 km²; it is somewhat larger than three times the size of
Texas
or almost eight times the size of
Italy
. Since the partition of Sudan, Algeria is the largest country in Africa.
Algeria has a
population
of about 44.7 million people (2021); the capital, chief port and largest city is
Algiers
.
Spoken
languages
are Arabic (official), various Berber dialects, recognized as "national language," and French (in business and education).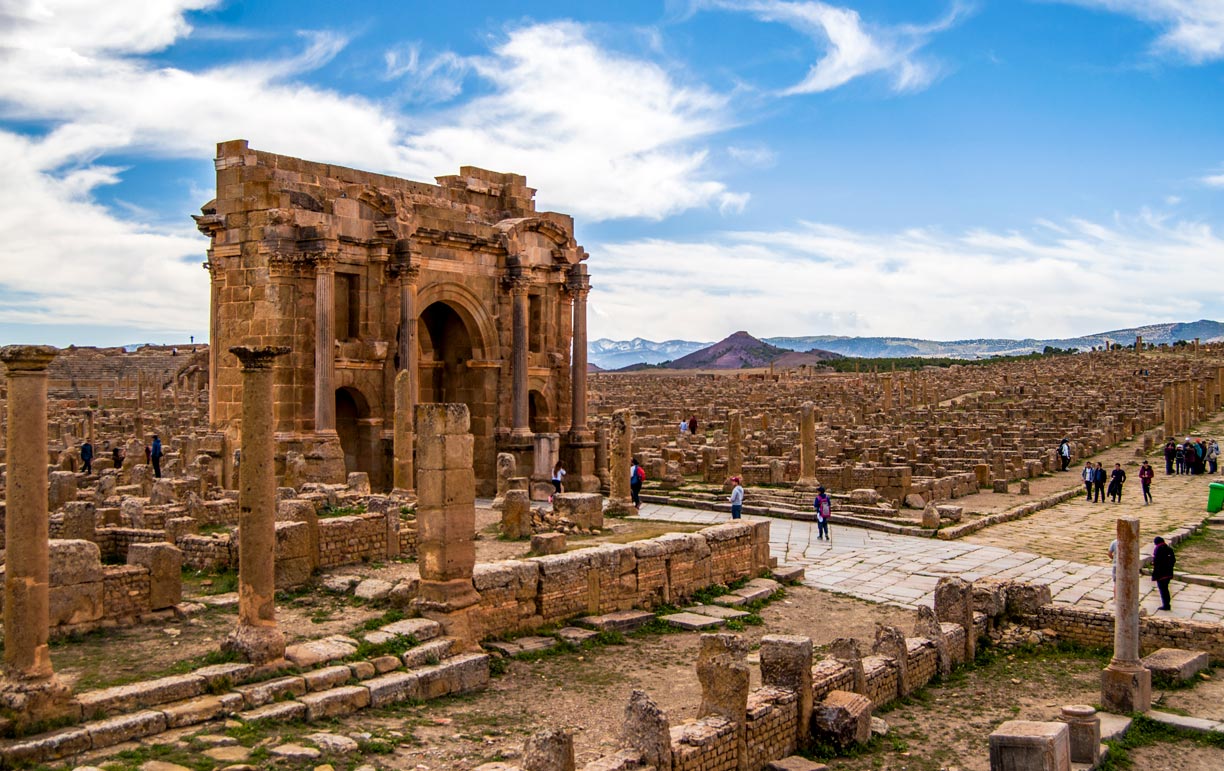 Image: Araibia Amine (Artistou)
Geography of Algeria
The inhospitable Sahara desert covers more than 80% of Africa's largest country. For this reason, the vast majority of people, about 90%, live in the country's heartland, the temperate hilly northern part and the fertile coastal plains along the
Mediterranean Sea
.
The northern region of Algeria is dominated by two parallel foothills of the Atlas Mountains. The
Tell Atlas
and the
Sahara Atlas
mountains.
The Tell Atlas extends mainly over northern Algeria and forms a natural barrier between the Mediterranean Sea and the Sahara. Several of Algeria's major cities are located at the foot of the Tell Atlas. To the east of the Tell are the Aurès Mountains.
Between the Tell and the Sahara Atlas are the
Hautes Plaines
(high plains); hilly, steppe-like plains with an average altitude between 1,100 and 1,300 m.
The Sahara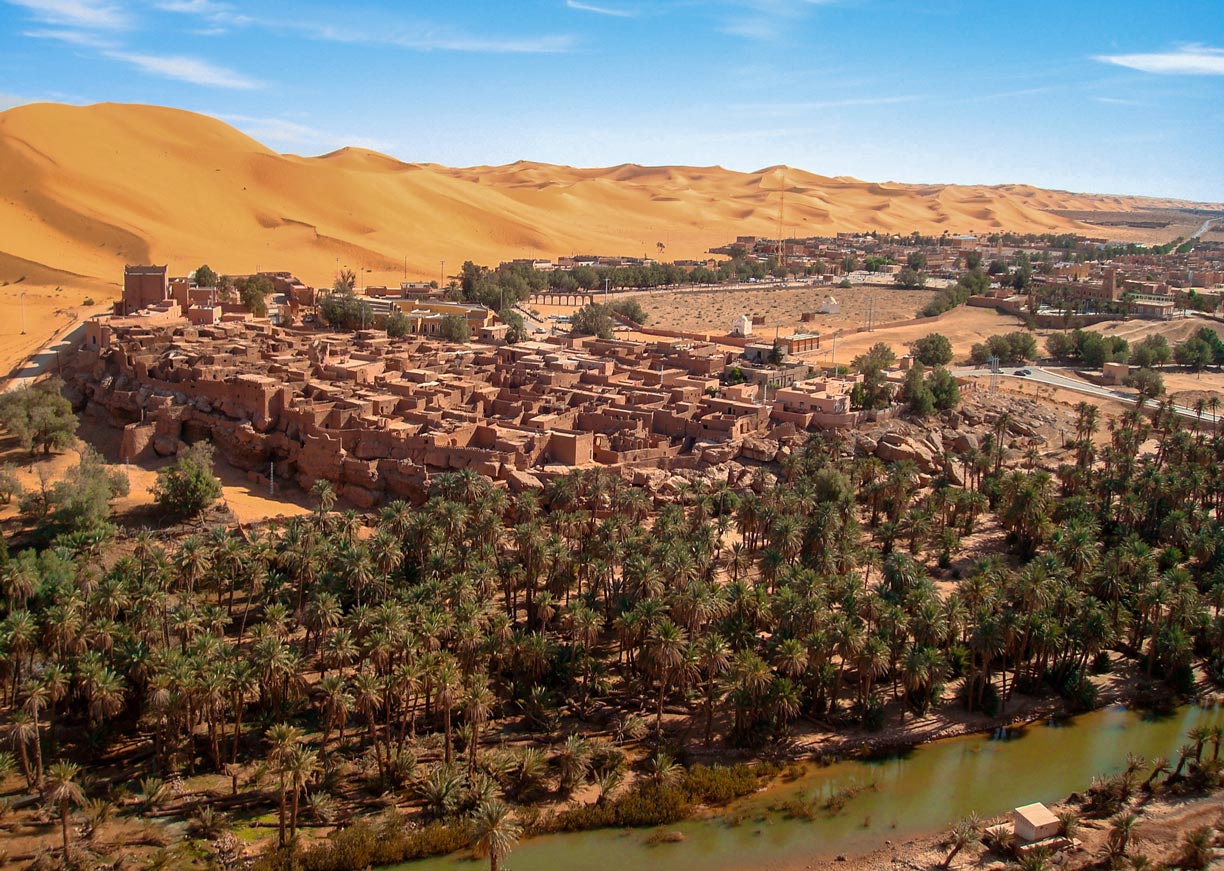 .
Image: Mohamed.benguedda
More than four-fifths of Algeria lies in the central part of the
Sahara Desert
, the largest (hot) desert in the world, covering most of North Africa. The Sahara extends from the Atlantic Ocean in the west to the Red Sea in the east and the Mediterranean Sea in the north.
The Grand Ergs
To the south of the Sahara Atlas mountains are the vast areas of the "field of sand dunes," known as the
Grand Erg Occidental
(the Western Sand Sea) in the center of Algeria and the
Grand Erg Oriental
to the east. These natural desert regions receive almost no rainfall.
Ahaggar
Deep in the central Sahara, in southeastern Algeria is the country's highest peak,
Mount Tahat
, at 2,908 m (9,541 ft). The mountain is situated in the highland region of the
Hoggar Mountains
(Ahaggar)
People
Algeria's population consists of 99% Arab-Berbers. Although almost all Algerians are of Berber (not Arab) origin, only a minority identify themselves as primarily Berber, about 15% of the total population; these people live mainly in the mountainous region of Kabylie, east of Algiers and some other communities.
The state religion is Islam. The Berbers are also Muslims, but they identify more with their Berber than with their Arab cultural heritage.