About Tunis

Satellite view is showing Tunis, capital and the largest city of

Tunisia. The city is located close to the Lake of Tunis (Lac de Tunis) and of La Goulette, the port of Tunis, in the north east of the country at the coast of the Gulf of Tunis, which is a part of the Mediterranean Sea. The core of the city is the Medina of Tunis

, a UNESCO world heritage site. The medina consists of some 700 monuments, including palaces, mosques, mausoleums, madrasas and fountains.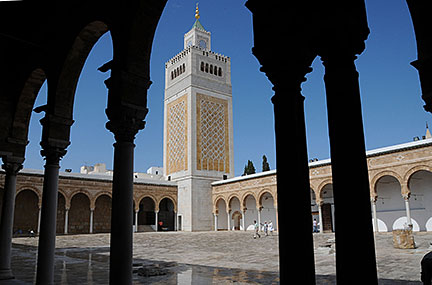 Image: Citizen59

History (short version)
The site is possibly of pre-Carthaginian origin. The ruins of Carthage itself lie to the north east and have been excavated. Under the rule of the Hafsid dynasty from the 13th to 16th centuries AD, Tunis became the capital of Tunisia and a major city in the Muslim world.

The city was captured by the Turks under Barbarossa in 1534 and later came under Spanish rule twice in the 16th century. The Turkish governors of Tunis were virtually autonomous after 1591, and Tunis flourished as a trading center and a pirate base!

Occupied by the French in 1881, it was the headquarters for the last stand of the Axis forces in North Africa during World War II and fell on May 7, 1943.

Today Tunis has a population of about 730,000 inhabitants. Official language is Arabic.

Related countries: France, Spain, Turkey

The map shows a city map of Tunis with expressways, main roads and streets, and the location of Tunis-Carthage International Airport (IATA code: TUN).

To find a location use the form below.

To find a location type: street or place, city, optional: state, country.


Local Time Tunsia:

Sunday-January-23 05:56


Time zone: Central European Time (CET) :: UTC/GMT +1 hours