About the United Arab Emirates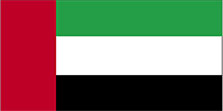 Satellite view is showing the country on the Arabian Peninsula, bordering the Gulf of Oman in east and the Persian Gulf in north.

Countries with international borders to United Arab Emirates are Oman and Saudi Arabia, the UAE shares also maritime borders with Iran.



Image: NASA

The country consists of a federation of seven

emirates formerly also known as sheikdoms: Abu Dhabi, Dubai, Sharjah, Ajman, Umm Al-Quwain, and Fujairah, and Ras Al Khaimah

.

Most of the country's geography is made up of -- sand, they do really have a broad beach down there.

Capital city of United Arab Emirates is Abu Dhabi, have a look at Dubai Emirate, the luxury-consumer paradise of the Middle East.
The two main international airports are in Abu Dhabi and Dubai.

The map shows the United Arab Emirates with cities, towns, expressways, main roads and streets.

To find a location use the form below. To view just the map, click on the "Map" button.

To find a location type: street or place, city, optional: state, country.


Local Time United Arab Emirates:

Sunday-October-21 12:36

UTC/GMT +4 hours