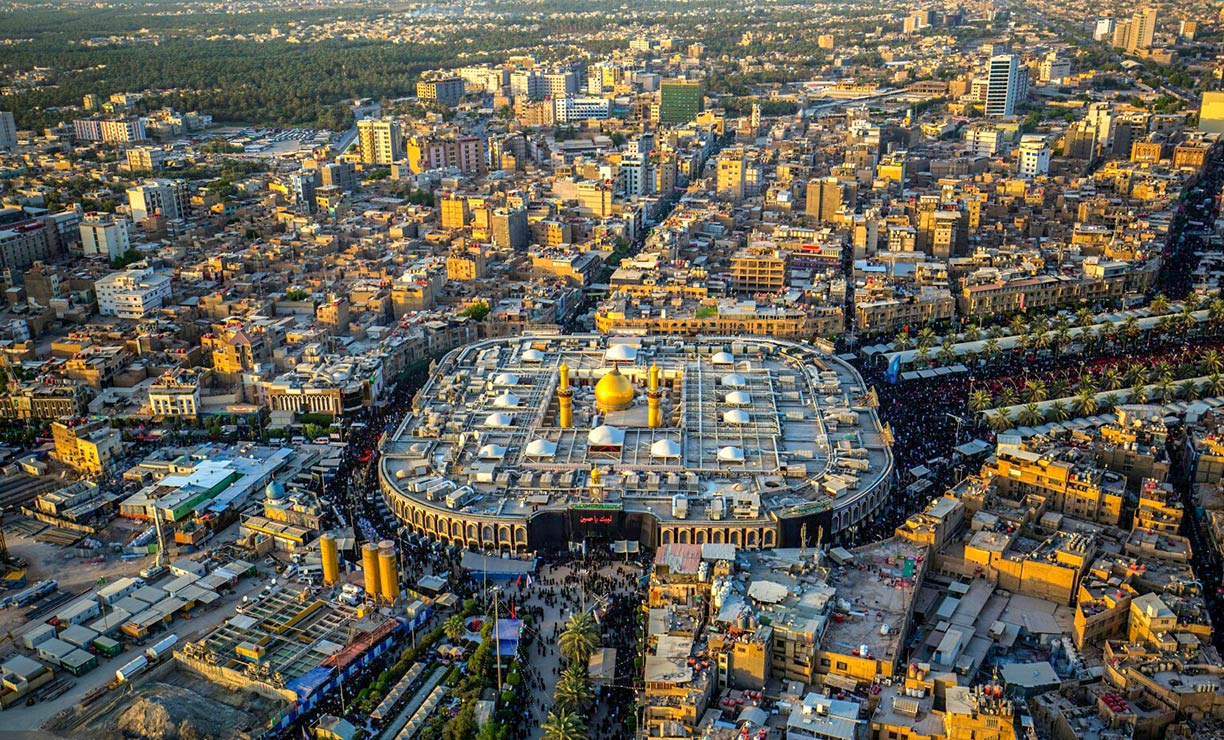 Photo: Karbobala Photos
Major cities in Iraq are:
Baghdad
, the capital of Iraq, is located on the Tigris River. The city was for some time the capital of the Abbasid Caliphate, then known as Madinat al-Salam (city of peace). It was built between 762–767; the town became a center for Arabic science and trade and was home to the House of Wisdom, a library and public academy.
Basra
, Iraq's main port and economic capital is situated at the Shatt al-Arab (Arvand Rud) river, about 100 km from the Persian Gulf.
Kirkuk
is an industrial city situated in the borderland between predominantly Arab Iraq and the Kurdistan region in northern Iraq. The city is an important center of Iraq's oil industry and the "capital of Iraqi culture."
Najaf
(an-Najaf al-Ashraf) lies on the Euphrates River in southern Iraq. The city is considered sacred by Shi'a Muslims; it is home to the shrine of Ali, the fourth Rashidun and the prophet Muhammad's son-in-law. Within the metropolitan area of Najaf lies Kufa, a prominent historic city and famous for the Great Mosque of Kufa. Kufic, the oldest calligraphic form of the various Arabic scripts, was developed in the town.
Sulaymaniyah
(Slemani) is the capital of a Kurdish governorate of the same name in northeastern Iraq. The cultural capital of South Kurdistan is often described as a "cosmopolitan city." It is a popular tourist destination surrounded by several mountain ranges.
Hillah
is a city in the center of the nation, located on the on the Al-Ḥillah river, the eastern branch of the Euphrates River. The capital of the Babil Governorate is located adjacent to the ancient city of Babylon.
Amarah
(al-'Amarah), the former Ottoman military outpost is located in south-eastern Iraq at the site where the Tigris branches into two river arms. It is the capital of the Maysan Governorate.
Nasiriyah
, the capital of the Dhi Qar Governorate, was founded in the 19th-century. The city is situated in the southeastern part of the country on the banks of the Euphrates River. Nasiriyah lies close to the ruins of the ancient Sumerian city-state of
Ur
.
Karbala
is the capital of Karbala Governorate and considered a holy city for Shi'ite Muslims. The city is home to the Imam Husayn Shrine, where
Husayn ibn Ali
, the grandson of the Islamic prophet Muhammad is buried.
Samarra
, the former Abbasid capital is situated on the east bank of the Tigris in the Saladin Governorate. The Al-Askari Mosque at Samarra contains the tombs of the 10th and 11th imams revered by Shia pilgrims.
Samarra Archaeological City

is a UNESCO World Heritage Site.