About Azerbaijan

Satellite view is showing Azerbaijan, a former Soviet republic in southeastern Europe in the Southern Caucasus, bordering the Caspian Sea in east. The country at the crossroads of Eastern Europe and Western Asia became independent in 1991 and is now officially named Republic of Azerbaijan. The republic is bordered by Armenia, Georgia, Iran, Russia, and Turkey.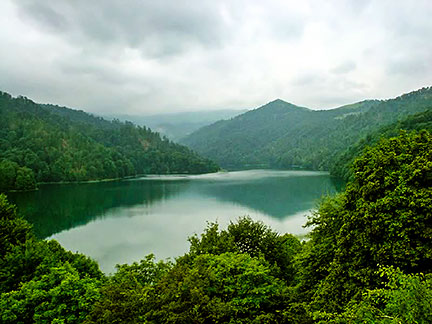 course of the Kürəkçay River. The lake in the Göygöl National Park near the city of Ganja is famous for its pure water.

Image: Francisco Anzola

With a total area of 86,600 km² (33,440 sq mi), including the exclave of the Naxcivan Autonomous Republic and the disputed Nagorno-Karabakh region, the country is slightly larger than Austria or slightly smaller than the U.S. state of Maine.

Azerbaijan has a population of 9.5 million inhabitants (in 2011). Capital city is Baku. Spoken languages are Azerbaijani (official) and Russian. Main religion is Islam, about 90% of the population are Muslims.

Azerbaijan's climate zones range from arid subtropical to the mountainous tundra. The country is part of an ecoregion encompassing Georgia and Armenia.
Mount Kiche suv (Bazardüzü or Bazarduzu Dagi) is the highest peak in Azerbaijan with 4,466 m (14,652 ft).

The country's main rivers are Kura (Kur) with a length of 1,515 km and Aras River with a length of 1,072 km.

Azerbaijan economy is largely based on oil,

The map shows Azerbaijan with cities, towns, expressways, and main roads.

To find a location use the form below.

To find a location type: street or place, city, optional: state, country.


Local Time Azerbaijan:

Saturday-September-30 18:53

Standard time zone: Azerbaijan Time (AZT) :: UTC/GMT +4, DST from end of March to end of Oct. +5 hours