Map of Kuwait, Middle East
About Kuwait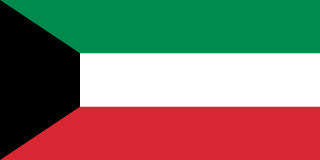 The map shows Kuwait, officially the State of Kuwait, a desert country in the north-eastern corner of the
Arabian Peninsula.
The emirate borders
Iraq
and
Saudi Arabia
, it is bounded by the Persian Gulf in the east, and it shares maritime borders with
Iran
.
With an
area
of 17,818 km², Kuwait is about half the size of the
Netherlands
or slightly smaller than the US state of
New Jersey
.
The emirate has a
population
of 4.6 million people (in 2019), about 70% are foreigners and 30% Kuwaiti. Capital and largest city is
Al Kuwait
, also known as Kuwait City. Al Kuwait is at the center of a sprawling metropolis which extends along the deep harbor of Kuwait Bay in the west, and the Persian Gulf to the south. The rest of the country is rather uninhabited. There are two rural areas with farming activities, Abdali in the north, and Wafrah in the south.
The country's official language is Arabic; due to the large number of expats, the lingua franca is English.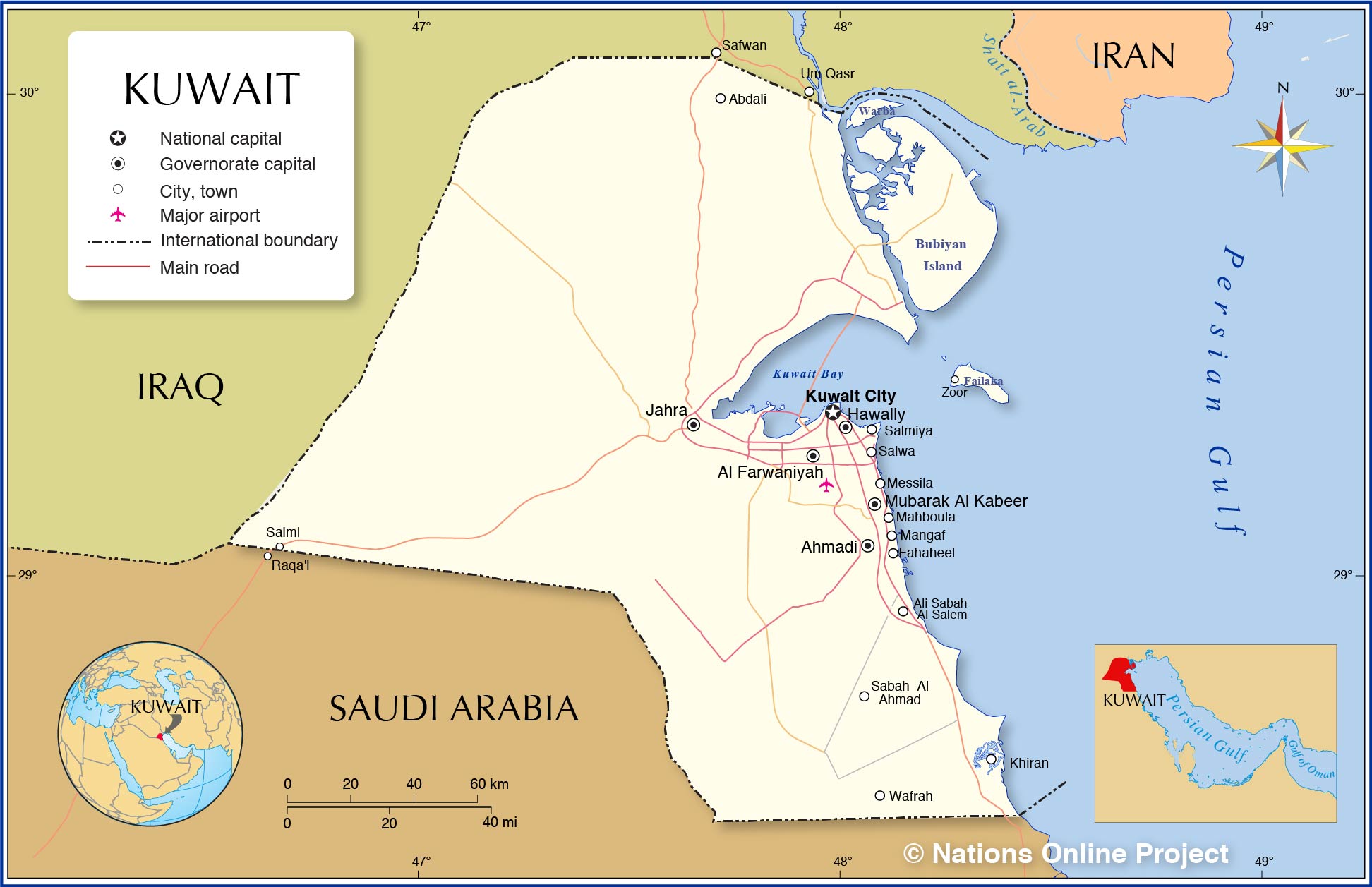 Political Map of Kuwait
The map shows Kuwait and surrounding countries with international borders, the national capital Al Kuwait, governorate capitals, major cities, main roads, and major airports.

You are free to use above map for educational purposes, please refer to the Nations Online Project.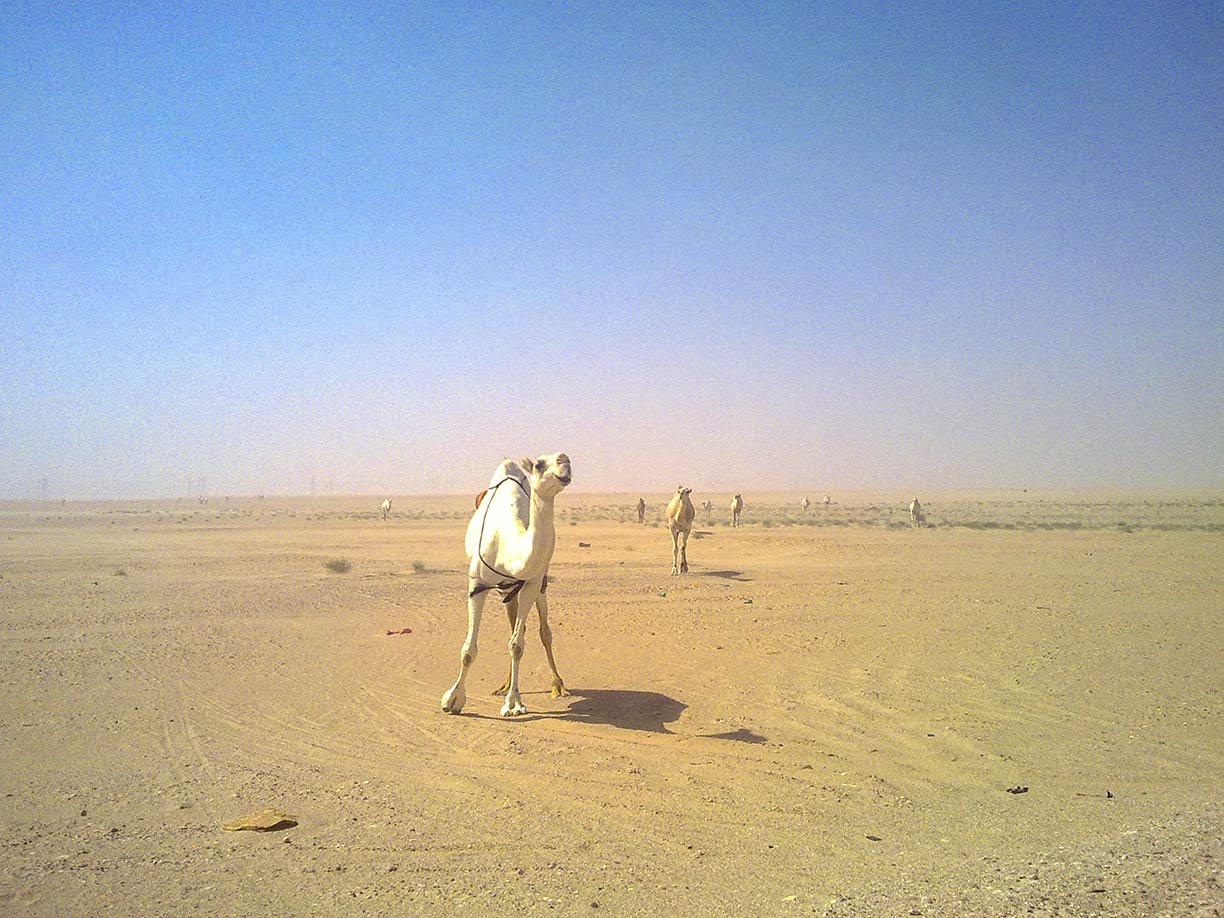 Photo: Irvin calicut
As mentioned above, Kuwait is a desert country in the Middle East. Its climate is hot and dry year-round. Summers are very hot; the winter months are cooler and the best time for travel.
Kuwait was founded in the mid-18-century by tribal Arabs. They settled on the southern edge of a bay (now known as Kuwait Bay) near the estuary of the Euphrates and Tigris rivers (Shatt al-Arab). It was the perfect place to start a business. The settlement became a commercial way station, exchanging goods, services, and people between ships coming from India and Southern Arabia with the camel caravans of northern Arabia and Mesopotamia.
Today Kuwait's economy runs on petroleum. Oil reserves were discovered at the end of the 1930s. The country's principal export product is petroleum. Petrodollar made the country's elite immensely wealthy.
Kuwait's modern infrastructure is built primarily by imported foreign workers and contractors.
The map shows the location of following cities and towns in Kuwait:
Abdali, Ahmadi, Al Farwaniyah, Ali Sabah Al Salem, Fahaheel, Hawally, Jahra, Khiran, Kuwait City (Madinat Al-Kuwayt), Mahboula, Mangaf, Messila, Mubarak Al-Kabeer, Sabah Al Ahmad, Salmi, Salmiya, Salwa, Wafrah, and Zoor.
More about Kuwait
Cities:

Searchable map/satellite view of Kuwait City
Country:

Searchable map/satellite view of Kuwait

Kuwait Country Profile
Continent:

Map of the Arabian Peninsula

Map of the Persian Gulf

Map of Northern Africa and the Middle East

Map of Western Asia and the Middle East region