About Bahrain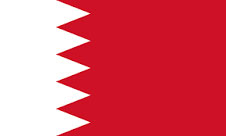 The satellite view and the map show Bahrain, officially the
Kingdom of Bahrain
, situated on an archipelago in the Persian Gulf off the eastern coast of
Saudi Arabia
, close to
Qatar
. The kingdom shares maritime borders with
Iran
, Qatar, and Saudi Arabia.
Bahrain is connected to the
Arabian Peninsula
by a series of bridges and causeways named the King Fahd Causeway.
With an
area
of 750 km², the island country is slightly larger than
Singapore
(699 km²), or 3.5 times the size of
Washington, DC
. Like other wealthy island nations, Bahrain's area is growing due to land reclamation. Extensive land reclamation projects increased the number of its formerly 33 islands to more than 80.
Bahrain has a
population
of 1,424,000; thereof 665,000 people are Bahraini nationals, 759,000 were non-nationals (in 2016).
[1]
The capital and largest city is
Manama
, located in the north-eastern corner of the main island, opposite of the city of Muharraq, the country's former capital on Muharraq Island. Spoken
language
is Bahrani Arabic; English is also widely used.
The map shows Bahrain with cities, towns, expressways, and main roads, and the location of
Bahrain International Airport
(
IATA code
: BAH).
To find a location use the form below.