About Yemen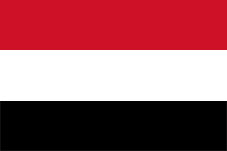 The satellite view and the map show the Middle Eastern country in the southwestern corner of the
Arabian Peninsula
. Yemen borders the Arabian Sea and the Gulf of Aden in the south, and the Red Sea in the west. Countries with international borders to Yemen are
Oman
and
Saudi Arabia
; it also shares maritime borders with
Djibouti
,
Eritrea
, and
Somalia
.
With an
area
of 527,970 km², the country is about the size of
France
or about twice the size of the US state of
Wyoming
.
Yemen has an estimated population of 28 million people (2018).
The largest city and the capital of Yemen is
Sana'a
; the country's primary seaport is
Aden
. Spoken
language
is Arabic (official). The
Old City of Sana'a

is a UNESCO World Heritage Site.
Yemen has been in a political crisis since 2011. The "Arab Spring" has spilled over to Yemen. Street protests against poverty, unemployment, and corruption erupted. There were anti-government protests against president Saleh's plan to change Yemen's constitution to eliminate the presidential term limit, in effect making him president for life.
In February 2012 President Saleh was forced to step down after 33 years in power. Saleh handed power to his deputy Abdrabbuh Mansour Hadi.
Saleh was the fourth Arab leader to be removed from power after more than a year of mass protests in the Middle East.
The total absence of a central government during this transitional process engendered the escalation of the several clashes on-going in the country, like the armed conflict between the Houthis rebels (Ansar Allah) militia and the tribal and religious elements of al-Islah forces ( the Yemeni branch of the Muslim Brotherhood, funded by Saudi Arabia).
In September 2014 Houthi forces took Sana'a with the help of ousted president Saleh and declared themselves in control of the country. Saleh was shot dead by a Houthi sniper in Sana'a in December 2017.
His death resulted in a new civil war, and a US-supported Saudi Arabian-led military intervention aimed at restoring Hadi's government (without a UN mandate).
The map shows Yemen with cities, towns, expressways, main roads and streets.
To find a location use the form below.