About Mecca
The map shows Mecca the holy city of Islam in

Saudi Arabia, an oasis town located in the Red Sea region of Hejaz, east of Jiddah in western Saudi Arabia. It is the birthplace of the prophet Muhammad (ad 570), it was the scene of his early teachings before his emigration to Medina in 622.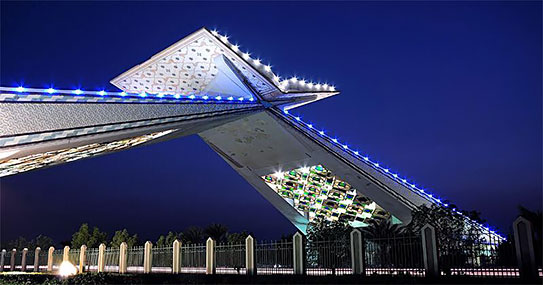 Image: Rowan5j

Points of interest in and around Mecca

Masjid al-Haram, the sacred mosque, Kaaba, Abraj Al-Bait Towers or Makkah Royal Clock Tower Hotel, a building complex in the center of Mecca, its tallest tower is the tallest building in Saudi Arabia with a height of 601 m. Jabal al-Nour, the "Mountain of Light", the mountain houses the Ghar Hira, a gap in the mountain, the location where in Muslim believe Muhammad received the first verses of the Quran from God through the angel Jebril (Gabriel).

Mecca is considered by Muslims to be the holiest city of Islam. To visit Mecca you have to be a Muslim, non-Muslims are strictly prohibited to enter the city.

Hajj pilgrims travel constantly between Mecca and
Mina (also known as the Tent City), in the Jamarat Area is the site of the symbolic stoning of the Devil.
Muzdalifah, the desert where the pilgrims spend the night.
Mount Arafat, the Mount of Mercy in the Uranah valley near Mecca, in Islamic tradition, the hill is the place where the prophet Muhammad delivered the Farewell Sermon,

Zoom in to see the holy mosque center with the Ka'bah (Kaabah), the holiest place in Islam.

The map shows a city map of Mecca with expressways, main roads and streets.
Mecca's small Mecca East Airport has no airline service, so most pilgrims access the city through the Hajj terminal of King Abdulaziz International Airport (IATA code: JED) located 19 km (12 mi) north of the city of Jeddah, about 80 km (50 mi) west of Mecca.

To find a location use the form below.

To find a location type: street or place, city, optional: state, country.


Local Time Mecca:

Monday-June-24 14:25

UTC/GMT +3 hours