About Dodoma
Satellite view is showing Dodoma (officially Dodoma Urban District), capital of the Dodoma region (for Tanzania's region see: Administrative Map of Tanzania) and since 1974 designated national capital of

Tanzania, located about 480 km west from the Indian Ocean in the center of the country.

In February 1996 Tanzania's National Assembly moved to Dodoma, but many government offices still remain in Dar es-Salaam, the former national capital.

Dodoma has a population of about 262,000 inhabitants. Spoken languages are English (official), and Swahili (national, de facto official).

The map shows a city map of Dodoma with expressways, main roads and streets, and the location of Dodoma Airport (IATA code: DOD).

To find a location use the form below.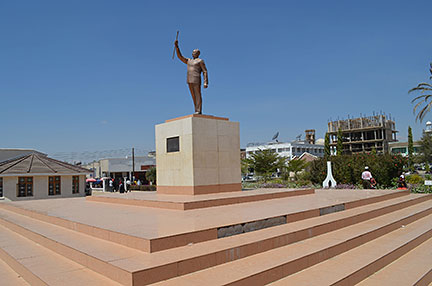 Nyerere Square in Dodoma. Julius Nyerere was the first President of Tanzania.


Image: Mchiriku





Bookmark/share this page



To find a location type: street or place, city, optional: state, country.


Local Time Tanzania:

Saturday-February-4 12:33

Time Zone: East African Time (EAT) - GMT/UTC +3