About Bloemfontein

Satellite view is showing Bloemfontein, capital of the province of Free State and the judicial capital of

South Africa. It is one of the country's three capital cities. South Africa's other capitals are Cape Town and Pretoria. Bloemfontein lies at an elevation of 1400 m, it is located in Free State province on the southern edge of the Highveld plateau at the border to Lesotho in central South Africa.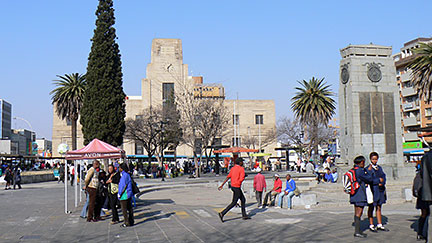 Image: Martin Kozák

The city started as a British army fort in 1846. From 1854–1898 it was the capital of the Orange Free State Republic, in 1890 the new railway line connected Bloemfontein with Cape Town. In 1902 it became the capital of the Orange River Colony, which ceased to exist in 1910, when it was absorbed into the Union of South Africa as Orange Free State Province, since that time Bloemfontein is the provincial capital of the Free State.

Today Bloemfontein is the seat of Mangaung Metropolitan Municipality and has a population of about 256,000 inhabitants, about 750,000 people live in the Mangaung metropolitan area. Spoken language are Afrikaans, Sesotho and Setswana.

The map shows a city map of Bloemfontein with expressways, main roads and streets, zoom out to find the location of Bloemfontein Airport (IATA code: BFN), located northeast of the city center.

To find a location use the form below.



To find a location type: street or place, city, optional: state, country.


Local Time Bloemfontein:

Monday-December-11 02:40

(UTC/GMT +2 hours)