About Bamako

Satellite view is showing Bamako, largest city and the national capital of

Mali. The city is a river port on the Niger River, located just above a series of rapids that divide the Upper and Middle Niger Valleys, in the southwestern part of Mali.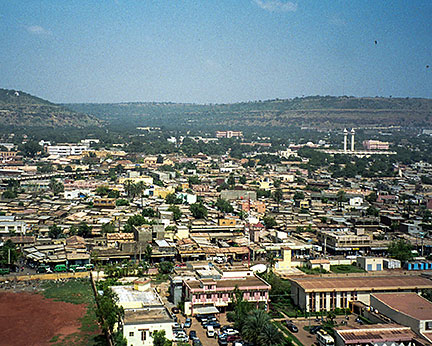 Image: upyernoz

Bamako has developed on the northern side of the river, but as one of the fastest growing cities in Africa, new urban quarters sprouted on the south shore of the river. Two bridges connect the historic part of the town with the suburbs.

Until now Bamako can be very dusty, particularly in the dry season, and muddy during the rainy season, because there are only a few paved main roads, the rest of the city's streets are unpaved.

Bamako has a population of about 1.8 million inhabitants. Spoken languages are French (official) and other vernacular languages, mainly of the Mande group.

The city is located in the Sahel zone and has a tropical wet and dry climate with average temperature highs of over 30°C.

The city is home to the Université de Bamako, also known as the University of Mali. The Bamako Grand Mosque and the National Museum of Mali, an archaeological and anthropological museum, are also located in Bamako.

The map shows a city map of Bamako with expressways, main roads and streets, zoom out to find the location of Bamako-Sénou International Airport (IATA code: BKO) about 16 km (10 mi) south of the city.

To find a location use the form below. To view just the map, click on the "Map" button.

To find a location type: street or place, city, optional: state, country.


Local Time Mali:

Saturday-June-3 17:59

Greenwich Mean Time (UTC/GMT 0 hours)