About Cape Town

Satellite view is showing Cape Town, second most populous city and the legislative capital of

South Africa, located in the south-western corner of the country at the foot of Table Mountain. The city sprawls over the northern end of the Cape Peninsula between Table Bay and False Bay.



Cape Town was founded in 1652 by the Dutch East India Company (VOC) as a resupply station for ships travelling from Amsterdam to the spice-producing islands of East Africa (Zanzibar) and Batavia (Jakarta, Dutch East Indies, now Indonesia). For their future shipping route service area, the Dutch first built a mud fort (Fort de Goede Hoop), then they laid out irrigated vegetable gardens and orchards and traded with the local Khoikhois for meat. Relics of the Dutch market gardening can still be visited at Company's Garden.
To keep the town running, the settlers needed more personnel, and so they undertook a slaving voyage from the Cape to Mauritius and Madagascar. Between 1666 and 1679 the Dutch built another bastion to better fortify and organize their assets. With this work done, the Dutch consolidated their position of the first permanent European settlement in Southern Africa and 'kaap stad' became the economic center of the Cape Colony.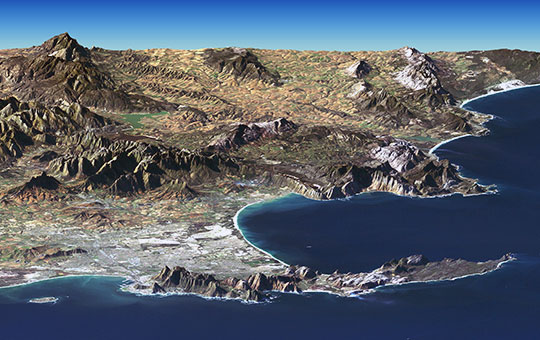 Image: NASA

Today Cape Town is one of South Africa's three capitals (the others being: Pretoria and Bloemfontein), it is the seat of the Parliament of South Africa, the country's legislative capital, and the capital of Western Cape province. The city has a population of 3.74 million inhabitants (2011). Languages spoken in Cape Town are Afrikaans (36%), Xhosa (30%), and English (25%).

Cape Town is one of the most popular international tourist destination not only in South Africa, but in Africa.

The 'African capital of cool' is #2 in National Geographic's Top 10 list of Beach Cities. Some of the highlights are:
Table Mountain Aerial Cableway (get the whole picture on top of Table Mountain), Grand Parade (town square - surrounded by the Cape Town City Hall, the Castle of Good Hope, and the Cape Town railway station), Robben Island (former prison island, most prominent inmate: Nelson Mandela), Cape Peninsula with Cape of Good Hope (the southern end of Africa, known for stormy weather and rough seas), Groot Constantia and Constantia Valley (sprawling mansions and lush vineyards), South African National Gallery (Dutch, French and British works from the 17th to the 19th century), Iziko South African Museum And Planetarium at the Company's Garden (fossils, animals, human tools & clothing).

Just zoom in to see Cape Town City Center in a 45-degree view.

The map shows a city map of Cape Town with expressways, main roads and streets, and the location of Cape Town International Airport (IATA code: CPT) 17.7 km (11 mi) by road (via N2) east of the city. To the west you see Cape Town's landmark the Table Mountain with its flat top.

To find a location use the form below.

Map Help
To find a location type: street or place, city, optional: state, country.


Local Time Cape Town:

Saturday-September-23 06:06

UTC/GMT +2 hours