About Bujumbura
Satellite view is showing Bujumbura, largest city and national capital of

Burundi's, a small (about half the size of Croatia), landlocked country in Eastern Africa.

Until independence of Burundi the city was known as Usumbura. Bujumbura is situated at the north-eastern corner of Lake Tanganyika and is the country's chief port. Most of the country's export is shipped from there.

The city has an estimated population of about 500,000 inhabitants. Spoken languages are French (official) and Kirundi.

Some points of interest you can visit from Bujumbura: Lake Tanganyika beaches (freshwater fun), Rusizi National Park (meet Gustave, a Nile crocodile rumored to have killed 300 people), Livingstone–Stanley Monument (Dr Livingstone, I presume?), Kibira National Park (primeval rain forest), Chutes de la Kagera (falling waters)

The map shows a city map of Bujumbura with expressways, main roads and streets, and the location of Bujumbura International Airport (IATA code: BJM).

To find a location use the form below.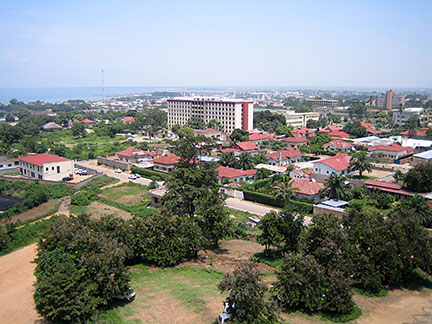 Image: Amakuru
Bookmark/share this page
To find a location type: street or place, city, optional: state, country.


Local Time Botswana:

Saturday-September-23 06:06

Time Zone: Central Africa Time (CAT) GMT/UTC +2