About Praia

Satellite view is showing Praia, seaport, largest city, and the capital of

Cape Verde. The Republic of Cabo Verde is an archipelago of 10 volcanic islands and five islets in the Atlantic Ocean, 670 km (420 mi) west of Dakar, the westernmost city of Africa, capital of Senegal at the coast of West Africa.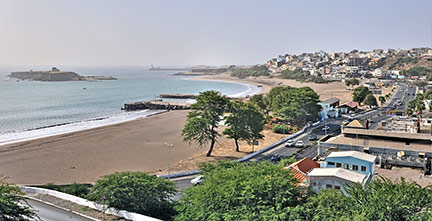 Image: Cayambe

The Portuguese discovered the uninhabited islands in the 15th century and soon colonized it. The first Portuguese settlers arrived in 1462 and founded Ribeira Grande on the island of Santo Antão, the oldest European settlement in the tropics.

Praia is located on the southern coast of Santiago island, it has a population of 130,000 inhabitants (in 2010). The city is Cape Verde's commercial center, and is home to the University of Cape Verde.
Spoken languages are Portuguese (official) and Kabuverdianu (Portuguese based Cape Verdean Creole).

The map shows a city map of Praia with expressways, main roads and streets, and the location of Praia International Airport (IATA code: RAI) about 3 km (2 mi) northeast of central Praia.
To find a location use the form below.



To find a location type: street or place, city, optional: state, country.


Local Time Cape Verde:

Wednsday-September-27 05:03

Timezone: Cape Verde Time (CVT) :: UTC/GMT -1h