About Harare

Satellite view is showing Harare the largest city and the national capital of

Zimbabwe,

the landlocked country in

South East Africa

.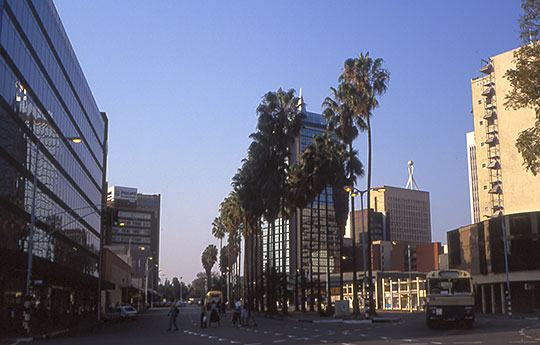 Image: Croquant

Harare is located in the northeastern part of the country in Mashonaland East Province, it lies at an elevation of 1483 m. Until 1982 the city was known as Salisbury.

Harare has a city population of estimated 1.7 million inhabitants, 2.8 million live in its metropolitan area (in 2010). Most commonly spoken languages are English, Shona and Ndebele.

Harare is seat of Zimbabwe's government and the site of the University of Zimbabwe, the largest institution of higher education in the country.

Some points of interest in Harare:
The city is home to National Gallery of Zimbabwe, Zimbabwe's museum for contemporary art and visual heritage; the Zimbabwe Museum of Human Sciences. The Chapungu Sculpture Park with works of Zimbabwean stone sculptors is near the city. The National Botanic Garden in the suburb of Alexandra Park also houses the National Herbarium. The gardens show plants typical to Zimbabwe and the African continent including rare and endangered species.

Just zoom in (+) to see the Parliament Building at Africa Unity Square.


The Map shows a city map of Harare with expressways, main roads and streets, Harare International Airport (IATA Code: HRE), the largest airport in the country is located 13.5 km (8.4 mi) by road (via Airport Rd) south east of the city.


To find a location use the form below.

To find a location type: street or place, city, optional: state, country.


Local Time Zimbabwe:

Wednsday-October-4 08:14

Time Zone: South African Standard Time (SAST) - GMT/UTC +2h