About Pretoria

Satellite view is showing Pretoria, the administrative and de facto capital of

South Africa, one of the country's three capital cities. South Africa's other capitals are: Cape Town and Bloemfontein.

Pretoria is the central part of the City of Tshwane Metropolitan Municipality, located in the northern part of Gauteng Province, in the north-east of South Africa.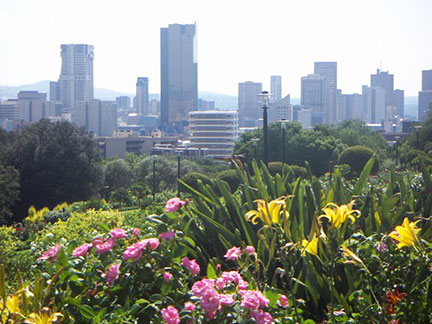 Image: zakysant

Pretoria was founded in 1855 by Marthinus Pretorius, a leader of the Voortrekkers and the first president of the South African Republic.

Today the city has a population of about 741,000 inhabitants, almost 3 million people live in the Tshwane Metropolitan Municipality (census 2011, the official name of the greater Pretoria metropolitan area).

Main languages spoken in Pretoria are Tswana, Ndebele, Afrikaans, and English.

Some points of interest in and near Pretoria:

Union Buildings (the official seat of the national government, the complex houses also the offices of the president); Voortrekker Monument (Pioneer history of Southern Africa); Kruger House (historical residence of the Boer leader and President of the South African Republic, Paul Kruger); Church Square ((Kerkplein), the historic center of Pretoria); Ditsong National Museum of Natural History (fossils and dinosaur bones);Ditsong National Museum of Cultural History (explore South Africa's cultural diversity); Van Wouw Museum (exhibits the sculptural work of Dutch-born sculptor Anton van Wouw (1862 - 1945)); Burgers Park (a botanical garden and a South African National Monument); Wonderboom Nature Reserve (Wonderboom (Ficus salicifolia) park with a Stone-Age site); Pretoria National Botanical Garden (National garden with the National Herbarium); National Zoological Gardens of South Africa (National zoo with an aquarium and an aviary).

The Map shows a city map of Pretoria with expressways, main roads and streets.

Zoom out (-) to find the location of Pretoria's Wonderboom Airport (IATA code: PRY) an airstrip north of the city.

Pretoria is served by Johannesburg OR Tambo International Airport

(IATA code: JNB) about 55 km (34 mi) south of Pretoria, connected by Gautrain railway in 2010.

To find a location use the form below.


To find a location type: street or place, city, optional: state, country.


Local Time Pretoria:

Friday-December-8 08:47

Time zone: South Africa Standard Time (SAST) :: UTC/GMT +2 hours