About Niamey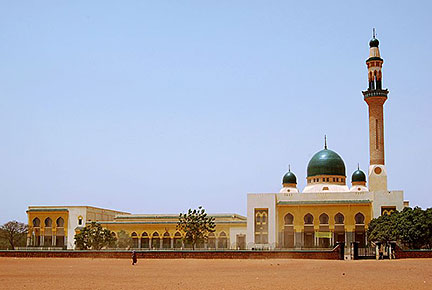 Image: Roland

Satellite view is showing Niamey, largest city and since 1960 the national capital of independent

Niger, a landlocked country in West Africa. The city is located along both sides of the Niger River in south west of the country, about 90 km east of the border to Burkina Faso.

At the beginning of the 20th century, in times of the 'Scramble for Africa', the French established a colonial military post in the in the Sahel zone close to five Foulani villages. Presumably the invasion itself was the reason that the post grew rapidly into an important center for power, trade and job opportunities.

In 1903 Niamey became the administrative seat of the Territoire Militaire du Niger and in 1926 the town became the capital of the French Colony of Niger.

Today Niamey has a population of estimated of 1 to 1.5 million inhabitants. The city is divided into five Arrondissements, the two parts of the city on the left and the right bank of the river are connected by two bridges, the Pont Kennedy built in 1970, and since 2011 the Pont de l'amitié Chine-Niger (China-Niger Friendship Bridge). Spoken language is French.

The map shows a city map of Niamey with expressways, main roads and streets, zoom out to find the location of Diori Hamani International Airport (IATA code: NIM) southeast of the city.

To find a location use the form below.

To find a location type: street or place, city, optional: state, country.


Local Time Niger:

Tuesday-October-16 20:40

Time zone: West Africa Time (WAT) :: UTC/GMT +1 hours