Searchable Map of Africa using Google Earth Data
Satellite View is showing Africa the world's second largest continent, 30,244,000 km² (11,700,000 mi²) including its adjacent islands, it covers about 20 percent of Earth's total land area.

Africa is bordered by the Mediterranean Sea in north, the Sinai Peninsula, the Red Sea and the Gulf of Aden in north east, the Indian Ocean in southeast, and the North- and South Atlantic Ocean in west. The continent includes the island country of Madagascar (fourth-largest island in the world) and some smaller archipelagoes. The distance from the continent's northern coast to South Africa's shore line is about 8,000 km (5,000 mi). The Equator (latitude 0 degrees) divides the continent into almost two equal parts of north and south.

Africa is also home to 14 percent of the world population, more than 3 times the population of the USA, but still lesser than the population of India.
Africa is divided in 54 countries, most of the borders which separates countries are a legacy of the century long colonization of the continent, drawn arbitrary without regards to cultural affiliations between the indigenous people.


The map shows Africa with the location of countries, cities, places, expressways, main roads and streets (To view the map, click on the "Map" button.)

Find any place in Africa. To find a location use the form below. You may try for example: some African landmarks like: Kilimanjaro (Tanzania), Victoria Falls (Zambia and Zimbabwe), Serengeti National Park (Tanzania) or Kruger National Park (South Africa), go to Africa's largest lake -- Lake Victoria, one of the African Great Lakes, or have a look at the dunes of the Sahara, the world's largest hot desert which covers most of North Africa. You might search for the Blue Nile, one of the two major tributaries of the river Nile and you will land in Ethiopia near Lake Tana. You also can find man-made landmarks like the Pyramids of Giza (Egypt), or the Suez Channel.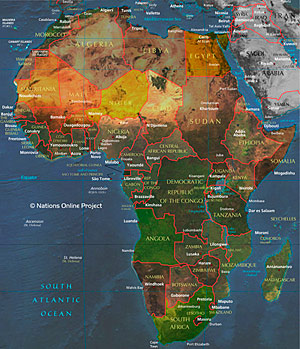 Map of Africa
Bookmark/share this page