About Bissau

Satellite view is showing Bissau, largest city, major port, and the national capital of

Guinea Bissau, located on the Geba River estuary near the Atlantic Ocean.

The city was established at the end of the 17th century by the Portuguese as a fortified coastal settlement and slave-trading station.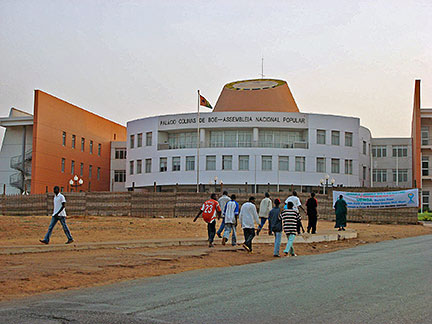 Image: Colleen Taugher

In 1941 Bissau became capital of Portuguese Guinea, it replaced Bolama on nearby Bolama island, which was the capital since 1879.

Today Bissau has a population of about 400,000 inhabitants. Spoken languages in Guinea-Bissau are Portuguese (official, spoken by just 14%). 44% speak Kriol (Portuguese-based creole), and various native African languages. The city is the educational, administrative and economic center of Guinea Bissau.

Among the city's attractions are the Fortaleza d'Amura, the old Portuguese fort, the Museum of African Artefacts with traditional sculptures, pottery, weaving and basket ware on display. The River Zoo Farm, the largest professional wildlife breeding farm and fauna sanctuary in western Africa.

The map shows a city map of Bissau with expressways, main roads and streets, and the location of Bissau's Osvaldo Vieira International Airport (IATA code: OXB), Guinea Bissau's only international airport, about 10 km by road east of Bissau (via Avenida dos Combatentes da Liberdade da Pátria).
.
To find a location use the form below. To view just the map, click on the "Map" button.

To find a location type: street or place, city, optional: state, country.


Local Time Guinea Bissau:

Tuesday-March-21 12:30

Time zone: Greenwich Mean Time (GMT)