Searchable Map and Satellite View of Yamoussoukro using Google Earth Data

Satellite view is showing Yamoussoukro, the administrative capital of

Côte d'Ivoire (for many better known as Ivory Coast). The city is located in Lacs region about 40 km south of Lake Kossun.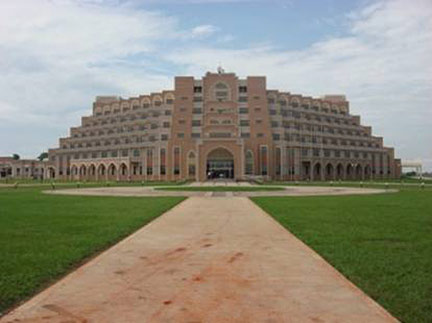 Image: Zenman

In the beginning of the 20h century Yamoussoukro was a small agricultural village of just under 500 people known then as N'Gokro. The new capital was named after Queen Yamousso the great aunt of Félix Houphouët-Boigny, who was the first President of Côte d'Ivoire (1960 to 1993). He moved the nation's capital in 1983 from Abidjan to the more centralized town where he was born.

Yamoussoukro has a population of about 200,000 inhabitants. Spoken languages are French and Dioula (Bambara).
The country's chief port, largest city, and still economic capital is Abidjan.

Just zoom in to see the Basilica of Our Lady of Peace of Yamoussoukro, a Roman Catholic basilica and the largest church in the world. The basilica was consecrated in 1990, it is designed after the Basilica of Saint Peter and was constructed between 1985 and 1989 at a cost of US$300 million.

The map shows a city map of Yamoussoukro with expressways, main roads and streets, zoom out to find the location of Yamoussoukro Airport (IATA code: ASK) about 24 km (15 mi) northwest of the city center.

To find a location use the form below.

To find a location type: street or place, city, optional: state, country.


Local Time Ivory Coast:

Monday-September-26 07:54

No UTC/GMT offset