Searchable Map and Satellite View of Juba using Google Earth Data
Satellite view is showing Juba, the capital of the now independet state of

South Sudan. The city is located in central south of Africa's newest state at the White Nile river.
The major town became the capital of the Republic of South Sudan on 9 July 2011.

Juba has a population of estimated 250,000 inhabitants. Official language is Arabic and English, Juba Arabic is lingua franca in Equatoria Province.

The autonomous government of southern Sudan has nominated English as the official language of government in the new state in preference to Arabic and/or local languages such as Juba Arabic, Dinka, Nuer, Shilluk and others.

The map shows a city map of Juba with expressways, main roads and streets, and the location of Juba International Airport (IATA code: JUB).

Map Help

To find a location use the form below.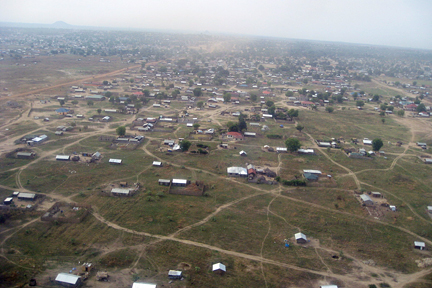 Juba town from the air.
Image: bbcworldservice

To find a location type: street or place, city, optional: state, country.


Local Time South Sudan:

Sunday-December-10 16:28

Eastern Africa Time (EAT): UTC/GMT +3 hours