About Ouagadougou

Satellite view is showing Ouagadougou, largest city and the national capital of

Burkina Faso, a landlocked country between Mali in north, and Ghana and Togo in south. Burkina Faso's primate city is located in the center of the country, it is the administrative, cultural and economic center of the nation.

According to oral history, the city was founded somewhere down the line between the 12th and 13th century and served as one of the administrative centers of the Mossi Kingdoms, which dominated the region of the upper Volta river for centuries.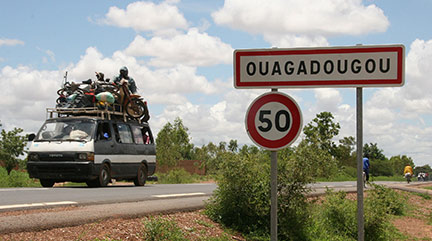 .

Photo: Ferdinand Reus


The urban settlement of today Ouagadougou located on the central plateau, was structured around the imperial 'palace' of the Mogho Naba, the emperor, revered as the "Rising Sun" by the Mossi people. It was the center of power of the Mossi Kingdom of Wogodogo (transl.: "where people receive honor and respect") from the mid 15th century until the late 19th century until the coming of the French with their expansion and colonization ideology, their superior supply infrastrucure and their weapon power.

Today Ouagadougou, often shorted to Ouaga, has a population of about 1.5 million people. Spoken languages are French (official) and indigenous languages of the Sudanic family.

The map shows a city map of Ouagadougou with expressways, main roads and streets, and the location of Ouagadougou International Airport (IATA code: OUA).


To find a location use the form below. To view just the map, click on the "Map" button.

To find a location type: street or place, city, optional: state, country.


Local Time Burkina Faso:

Tuesday-November-28 04:06

No time offset UTC/GMT 0 hours