Searchable Map and Satellite View of Lusaka using Google Earth Data
Satellite view is showing Lusaka, largest city and since May 1935 the national capital of

Zambia. The capital is located in south central Zambia on a limestone plateau at an altitude of 1300 m (4,265 ft) above sea level.

Lusaka has a population of about 2 million people. Spoken languages are English and Nyanja, a Bantu language.

Lusaka is the political, cultural, and economic center of the country, it is also the seat of the Government of the Republic of Zambia with the National Assembly (parliament), the State House (office of the President), and the High Court.

Just zoom in (+) to see Zambia's National Assembly building.

The map shows a city map of Lusaka with expressways, main roads and streets, zoom out to find the location of Lusaka International Airport (IATA code: LUN), about 22 km (14 mi) east of the city.

To find a location use the form below.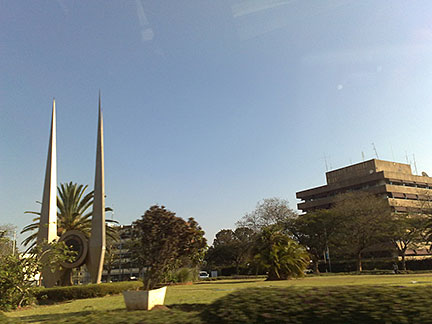 Kabwata, a residential area in Lusaka
Image: andresmh


Bookmark/share this page



To find a location type: street or place, city, optional: state, country.


Local Time Zambia:

Sunday-November-27 06:59

Time Zone: South African Standard Time (SAST) GMT/UTC +2 hours