About Brazil
Brazil is situated in the east-central part of the South American continent, with a coastline at the Atlantic Ocean.

With its vast area, the country is the fifth largest nation in the world and the largest country in South America and in the Southern Hemisphere, and yes, it is larger than Australia, and larger than the contiguous United States.

Brazil is bordered by French Guiana, Suriname, Guyana, and Venezuela in north, by Colombia in north-west, by Peru, Bolivia, and Paraguay in west, by Argentina in south-west, and by Uruguay in south.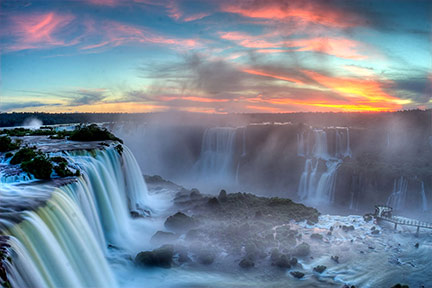 Iguazu Falls (Iguaçu) is part of the Iguazu National Park at the border between Brazil and

Argentina

. -

Image: SF Brit

Most of Brazil is tropical, its enormous landscape is divided in 5 major regions (Grandes Regiões): the equatorial North (Norte) with the Brazilian highlands and most of the Amazon rainforest, the Northeast (Nordeste), a mostly semiarid region covered by the Caatinga, a xeric shrubland and thorn forest, the Cerrado Savanna and some Atlantic Forest, the Central-West (Centro-Oeste) with Cerrado Savanna and the Pantanal wetlands in west, the Southeast region (Sudeste) was originally covered by Atlantic Forest, but only 10% remain due to clearing for farming, ranching, and charcoal making, and the temperate South (Sul) covered by the Uruguayan savanna of medium-tall grasslands, and the remains of what is left of Atlantic Forest and Araucaria moist forests.

Brazil has a population of 203 million people (2014), the national capital is Brasília, largest city is Sao Paulo, Brazil's economic capital and most famous city is Rio de Janeiro. Other major cities are Salvador (da Bahia), Fortaleza, Belo Horizonte, Manaus, Curitiba, Recife, Porto Alegre, Belém, Goiânia, São Luís, Maceió.
Spoken language is Brazilian Portuguese.

The map shows Brazil with the boundaries of its 26 states (estados), the state capitals, major cities, expressways, main roads, and streets.

To find a location use the form below.

To find a location type: street or place, city, optional: state, country.


Local Time Brasilia:

Friday-December-1 05:23

Brazil Standard Time: UTC/GMT -3 hours
Daylight Saving Time starts on the 3rd Sunday of October and ends on the 3rd Sunday of February shifts to UTC/GMT -2 hours.