About South America

South America is a continent that comprises the southern half of the American landmass, it is connected to North America by the Isthmus of Panama. The continent is located almost entirely in the Southern Hemisphere, bordered in west by the Humboldt (Peru) Current of the Pacific Ocean, in east by the Brazil Current of the South Atlantic Ocean, and in north by the Caribbean Sea.

South America is the visible part of the South American Plate, which meets the Caribbean Plate in the Caribbean Sea in north, the Nazca plate in the South Pacific Ocean in west, and in east it adjoins the African plate, which includes the continent of Africa.

With an area of 17.8 million km² it is number four in the short list of the largest continents. South America has a population of about 400 million people (2012).
The continent includes the Falkland Islands, the Galapagos Islands, and the island of Tierra del Fuego (the southern tip of the continent).

Located on the South American mainland are 12 independent nations and one Overseas region of France.

Countries (sovereign states) in South America (capital cities in parentheses)
Argentina (Buenos Aires) | Bolivia (La Paz) | Brazil (Brasilia) | Chile (Santiago) | Colombia (Bogotá D.C.) | Ecuador (Quito) | French Guiana (Cayenne) | Guyana (Georgetown) | Paraguay (Asunción) | Peru (Lima) | Suriname (Paramaribo) | Uruguay (Montevideo) | Venezuela (Caracas), the island nation of Trinidad and Tobago (Port-of-Spain) comprising of two islands, is considered to be part of the Caribbean, but it's just off the northeastern coast of Venezuela.

Major rivers are the Amazon River (Amazonas) with its tributaries Rio Madeira, Rio Negro, and Rio Xingu, Rio Magdalena, Rio Orinoco. The Tocantins River, São Francisco River, and Rio Paraná are not tributaries of the Amazon.

South America Geographic Extremes
Geographical highlights: highest point, longest mountain range, etc. in South America. [show]

Clickable map of the countries in South America.
Click on the map to get to the respective country profile page, or use the links below.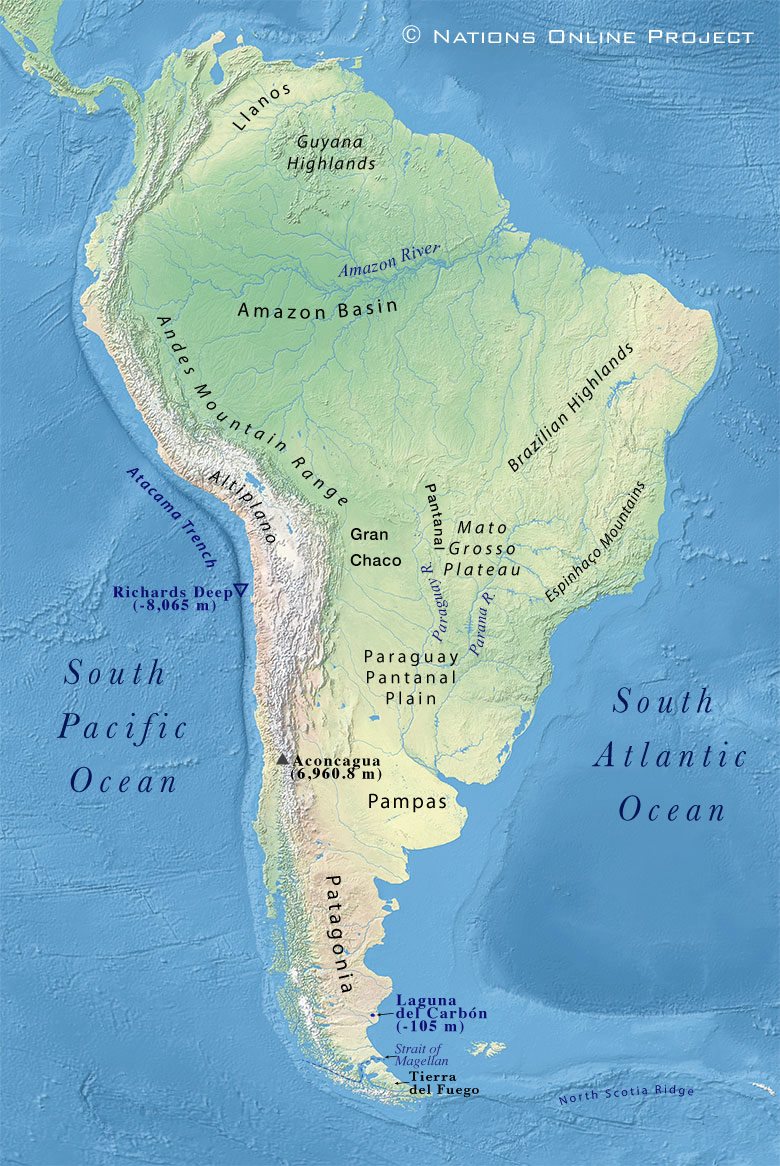 Bookmark/share this page


One World - Nations Online
all countries of the world