About French Guiana
Map is showing the South American overseas region of France, occupying the smallest portion of the continent, bordering the North Atlantic Ocean in north, countries with international borders to French Guiana are Brazil and Suriname.

With an area of 83,534 km² the country is about the size of Austria, or slightly larger than the U.S. state of South Carolina.

Guyane's landscape varies from a coastal strip with marshes and swamps, where the majority of the people live, to a dense, near-inaccessible rainforest which gradually rises to the modest peaks of the remote Tumuk Humak mountains along the Brazilian border area. French Guiana's highest elevation is at Bellevue de l'Inini in Maripasoula province with 851 m (2,792 ft.).
French Guiana's climate is tropical, hot, and humid, with little seasonal temperature variation.

Guyane has a population of just 250,000 people (in 2014). The official language is French, but a number of other local languages are spoken including English, French Guiana creole, six Amerindian languages, and four Maroon dialects. Capital city is Cayenne.

The ESA Space Center, the European spaceport, is located near the city of Kourou. There are two reasons for its location, first: it's near the equator, with today's technology, rockets need the centrifugal force of spinning earth that provides a good deal of extra velocity for free when launched eastward, and second: uninhabited territory to the east (like an ocean), so that the initial stages of the rockets or debris from a launch failure don't wreak havoc on human habitations.

The map shows French Guiana with cities, towns, expressways, main roads and streets.

To find a location use the form below.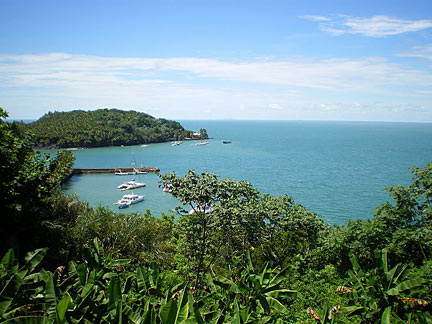 View from the île Royale: harbor and St Joseph island. Île Royale (Royal Island) is the largest of the three Îles du Salut, in the Atlantic Ocean off the coast of French Guiana.
Image: Tylda



Bookmark/share this page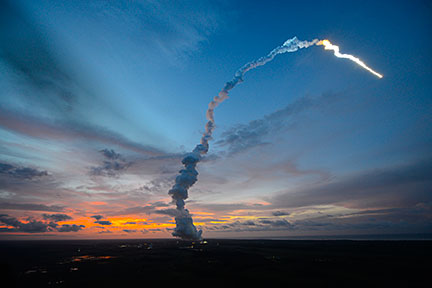 ATV-4 Albert Einstein lifts off from Kourou.
Image: DLR German Aerospace Center; ESA/S

To find a location type: street or place, city, optional: state, country.


Local Time French Guiana:

Monday-March-20 20:25

Standard time zone: French Guiana Time (GFT) UTC/GMT -3 hours