About the City of João Pessoa

Satellite view showing João Pessoa, the capital of Paraíba, one of the 26 Brazilian states. The city is located between Natal and Recife on the Atlantic coast at the easternmost tip of

Brazil, which is also the easternmost point of the Americas (Ponta do Seixas or Cape Branco).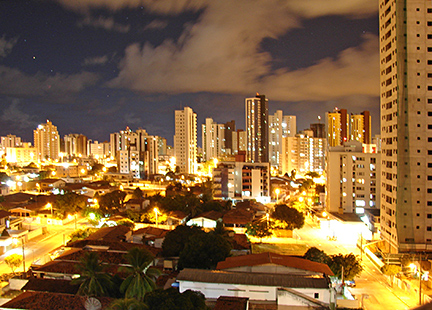 Image: Isaac Maia

João Pessoa is one of the oldest cities in Brazil. It was founded in 1585 on the right bank of the Sanhauá River as Cidade Real de Nossa Senhora das Neves (Royal City of our Lady of the Snows), named after the patron saint of what is today João Pessoa. For some years, from 1634 to 1654, the city was in Dutch possession who renamed it to Frederikstadt.

Today the largest city in Paraíba state has a population of more than 750,000 (est. 2013). and the main economic and financial center of Paraíba. With its 40 km of tropical beaches the city is a popular tourist destination with a growing tourist and commercial industry. Other economic activities are food, construction, metalworking, and other industries. The cultivation of sugar cane and related industries are also important.

João Pessoa lies in a humid tropical climate zone with relatively high levels of humidity, with a rainy season in "Winter " from March to August. Average temperatures are 27° Celsius throughout the year.

The Map shows map of the city of João Pessoa with expressways, main roads and streets and the location of João Pessoa International Airport (IATA Code: JPA) named Presidente Castro Pinto International Airport, located near Bayeux about 20 km (12 mi) from João Pessoa's city center.

To find a location use the form below. (Map Help)

To find a location type: street or place, city, optional: state, country.


Local Time João Pessoa:

Sunday-January-29 09:46

Brasília time (BRT): UTC/GMT -3 hours