About the City of Curitiba

Satellite view showing Curitiba, the capital of Paraná, the second largest of the 26 Brazilian states. The city is located in the South Region of

Brazil in the Paraná state. Paraná's largest city is situated over 900 m above sea level on a flat plateau, 400 km south west of São Paulo and 70 km west of the Atlantic coast.

The story of the city begins with the foundation of the city council in 1693. But only 150 years later European immigrants from Germany, Italy, Poland and Ukraine started arriving in the mid-19th century.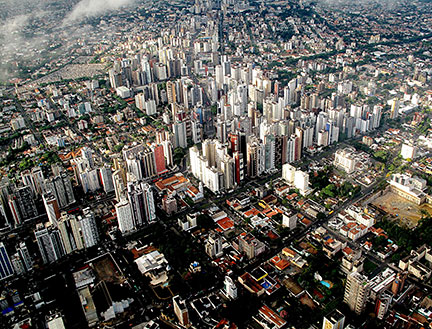 Aerial view of central Curitiba, the 9th most populous city in Brazil.

Image: Francisco Anzola

Today Curitiba has a population of almost 1.8 million, 3.2 million people live in the metropolitan area with its neighborhoods and boroughs (census 2010). The city is home to the Federal University of Paraná, and is also the cultural, economic, and political center of the state.

The city lies in a temperate climate zone offering a warm and humid environment with average temperatures of 25° Celsius in summer, winters are mild and damp, but sometimes with cold winds.

2014 FIFA World Cup
The city was one of the twelve host cities of the 2014 FIFA World Cup. Four group matches were held at the Arena

da Baixada

in June 2014.

The Map shows map of the city of Curitiba with expressways, main roads and streets as well as the location of Bacacheri Airport (BFH), today an airport used for general aviation. Zoom out to find the location of Curitiba International Airport (IATA Code: CWB) named Afonso Pena International Airport, located in São José dos Pinhais about 17 km (11 mi) south east from Curitiba's city center.

To find a location use the form below. (Map Help)

To find a location type: street or place, city, optional: state, country.


Local Time Curitiba:

Saturday-February-4 02:32

Brasília time (BRT): UTC/GMT -3 hours
Brasilia Summer Time (BRST) from mid-October to mid-February -2 hours