About the City of Vitória
Satellite view showing Vitória, a port city and the capital of 'Espírito Santo' (Holy Spirit), one of the 26 Brazilian states. The city is located in the Southeast Region of

Brazil on the Atlantic Ocean, situated on a small island within a bay. Next larger city is Rio de Janeiro, about 420 km south west of Vitória.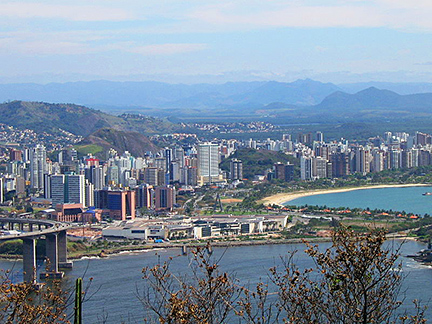 Image: Brunovix

In 1551 in search for a place more safe, the Portuguese moved the administration from Vila Velha, the former capital of Espírito Santo to the island near the mainland and called it Vila Nova do Espírito Santo and later renamed it Vitória. Today the city has a population of about 350,000 people, more than 1.6 million people live in the Greater Vitória metropolitan area.

Vitória lies in a tropical zone influenced by an oceanic climate
with only some rain from October until January. This is also the warmest season, the annual average temperature is around 27° C.

Vitória's economy is based on two of Brazil's major important ports, the Port of Vitória (Porto de Vitória) and the Port of Tubarão, which opened in 1966 to export iron ore from the "Iron Quadrangle" in Minas Gerais.

The Map shows a city map of Vitória with expressways, main roads and streets and the location of Vitória Airport known as Eurico de Aguiar Salles Airport (IATA Code: VIX) located about 10 km (6 mi) north of Vitória's city center.

To find a location use the form below.

To find a location type: street or place, city, optional: state, country.


Local Time Vitória:

Friday-September-29 17:43

Time zone: Brasilia Time (BRT): UTC/GMT -3 hours
Daylight Saving Time starts on the 3rd Sunday of October and ends on the 3rd Sunday of February shifts time offset to UTC/GMT -2 hours.