About the City of Boa Vista
Satellite view showing Boa Vista (Great View) capital of Roraima, one of the 26 Brazilian states. The city is located on the west bank of the Rio Branco (White River), a tributary of the Rio Negro (Black River) in the North Region of

Brazil. It is the northernmost capital in Brazil despite its position of just 300 km north of the equator.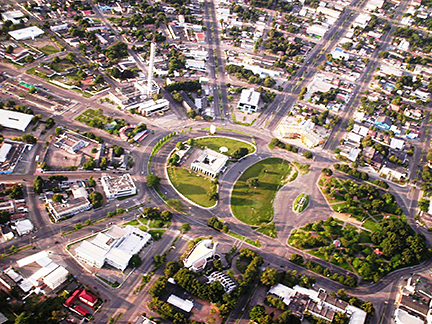 Image: SallesNeto
Boa Vista was founded in 1830. In 1890 the settlement received town status, it was then known as Boa Vista do Rio Branco. In 1943 it became the capital of the newly created Federal Territory of Rio Branco. When you look at the map you can see that it is a planned city with a radial layout, resembling a fan (planned in 1944-46).

Boa Vista has evolved since the mid 20th century from a cattle-breeder town to a city with 300,000 inhabitants, that's about two thirds of all the population of Roraima. The main reason for the boom were treasures of the soil like diamonds, gold, bauxite, and cassiterite were found and mined in the region.

The largest city in Roraima lies in a tropical climate zone with a hot and humid wet season from April until September. Annual average temperatures are between 23° and 31° C.

The city's economy is based on commerce and some services. It is also a stopover for for travelers on the way to Guyana or to Venezuela's high plains.

The Map shows a city map of Boa Vista with expressways, main roads and streets and the location of Boa Vista Airport (IATA Code: BVB), named Boa Vista-Atlas Brasil Cantanhede International Airport, located about 6 km (4 mi), by road, west of Boa Vista city center.

To find a location use the form below. (Map Help)
To find a location type: street or place, city, optional: state, country.


Local Time Boa Vista:

Monday-June-5 10:49

Amazon Time (AMT): UTC/GMT -4 hours