About the City of Rio Branco

Satellite view showing Rio Branco (White River), capital of Acre, one of the 26 Brazilian states. The city is located in the western extreme of the North Region of

Brazil, relative close to the borders with Peru and Bolivia.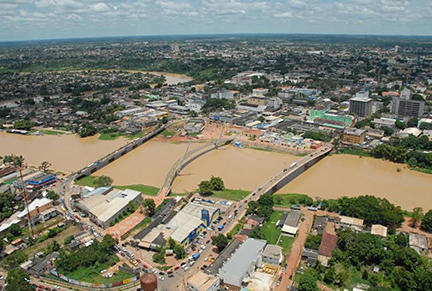 Image: Agência de Notícias do Acre
Rio Branco is the oldest urban settlement in Acre which has evolved since the late 19th century from a small village on the right bank of the Acre river to the capital of Acre state (since 1962). Today (2014) the city has a population of almost 360,000 people.

The still largest city in Acre state lies in a tropical monsoon climate zone with a wet season from October to May. The annual average temperatures are around 25° C.

For more than a century Rio Branco's main economic viability was based on the trade and further processing of rubber (caoutchouc). By the way, all rubber trees (Hevea brasiliensis) are originally descendants from the Amazon Rainforest.

The Map shows a city map of Rio Branco with expressways, main roads and streets. Zoom out to find the location of Rio Branco Airport known as Rio Branco-Plácido de Castro International Airport (IATA Code: RBR) located about 19 km (12 mi) north west of Rio Branco city center.

To find a location use the form below.

To find a location type: street or place, city, optional: state, country.


Local Time Rio Branco:

Thursday-December-7 16:10

Amazon Time (AMT): UTC/GMT -5 hours