Small Map of the States of Europe
European Countries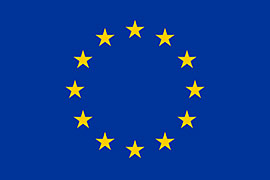 General map of the European countries with capitals and major cities.
The map shows European Union member states and new member states of the European Union since 2004, 2007, and 2013 (in yellow/orange), and member states of European Free Trade Association (EFTA) (in green).
The euro (sign: €; code: EUR) is the
currency
of the Eurozone. In 20 of the
28
27 member states of the EU, you can pay with euros: in
Austria
,
Belgium
,
Croatia
,
Cyprus
,
Estonia
,
Finland
,
France
,
Germany
,
Greece
,
Ireland
,
Italy
,
Latvia
,
Lithuania
,
Luxembourg
,
Malta
,
the Netherlands
,
Portugal
,
Slovakia
,
Slovenia
, and
Spain
.
Member States of the European Union:
Austria, Belgium, Denmark, Finland, France, Germany, Greece, Ireland, Italy, Luxembourg, Netherlands. Portugal, Spain, Sweden, United Kingdom



New Member States of the European Union:


Croatia (became the 28th member of the European Union in 2013), the Czech Republic, Estonia, Hungary, Latvia, Lithuania, Malta, Poland, Slovakia, Slovenia, and a divided Cyprus became union members in May 2004.

Bulgaria and Romania became union members in January 2007.
The UK is on its way out of the EU (29 March 2019, or 12 April 2019, or maybe later)



Countries in customs union with the EU:


Andorra, San Marino and Turkey, are in a customs union with the EU. Relations between the Principality of Monaco and the European Union are primarily conducted through France.



EU candidate countries:


Albania, North Macedonia, Montenegro, Serbia and Turkey are considered candidate countries.

Related European pages:

Map of Central and Eastern Europe

Map of the Balkan Peninsula

Map of the Mediterranean Sea Area

Map of the Black Sea

Map of the Baltic Sea Area

Map of Scandinavia

Map of the European Union

Map of the Major European Airports

Capitals of Europe

Countries of Europe
- Countries of Europe with population figures.

Flags of Europe
- Flags of the European States.

Languages of Europe